Christus Lecture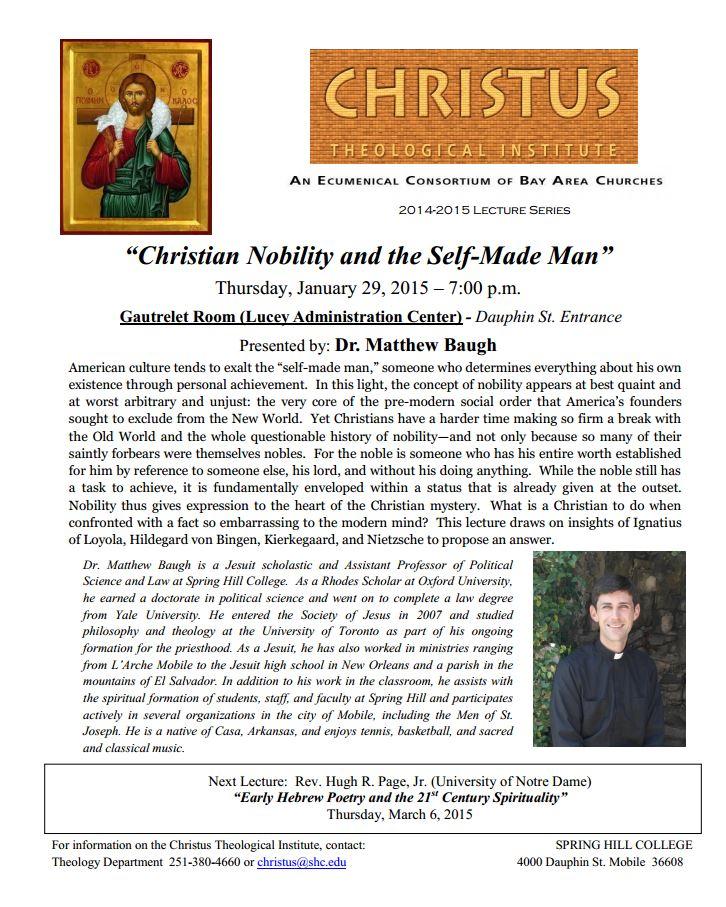 Meeri Kangas '15 ~ Peace, Love, and Theology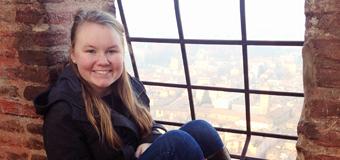 Spring Hill College senior Meeri Kangas exudes the Jesuit ideal of "going forth and setting the world on fire." The theology major from Irving, Texas is well-known across campus for her positive energy, enthusiasm, and genuine love for her fellow classmates.
After attending Nolan Catholic High School, Kangas knew she wanted a Jesuit-based college education, preferably in the South. She found the perfect fit with Spring Hill College.
"The campus is perfectly placed in warm weather, which I love," says Kangas. "And, after I visited on a "Badger Day" I was sold. I didn't know a single person at SHC, but after I watched the students, and witnessed their genuine love for one another and the school, it felt like home."
Spring Hill's liberal arts focus was another selling point for Kangas, as was the College's emphasis on leadership and service work.
"I was able to take classes in so many different subjects and explore my options," says Kangas. "Freshman year I tutored fourth grade students at Mary B. Austin Elementary School.
Sophomore year, I went on an immersion trip to Punta Gorda, Belize, which gave me the incredibly unique opportunity to play a role in serving a community completely outside of my comfort zone. It was a phenomenal experience with social justice."
Kangas, who had been undecided on a career path, determined shortly thereafter that she was called to study theology as her major and philosophy as a minor. She credits her advisor, Dr. Stephen Wilson, an associate professor of theology at Spring Hill, with giving her expert guidance throughout her entire college journey.
"He is so much more than just an advisor or theology professor; Dr. Wilson is someone who students respect because he genuinely values our ideas and opinions," says Kangas. "He cares about us in every aspect of life."
"Meeri is a wonderful person and an absolute joy to have in class," says Dr. Wilson. "She has an incredibly dynamic personality, one as big as her home state of Texas. She has a real gift for public speaking: she's knowledgeable and engaging." 
Kangas recently began using her talents as a public speaker to promote the SHC Italy Center, after studying there the fall semester of her junior year. While in Bologna, Kangas lived among Italian students and families, earned college credit, had the opportunity to travel across Europe, and continued her service work.
"It was the best time of my life. I grew so much as a person in my months abroad than I ever could have dreamed," says Kangas. "Spring Hill's Italy center is perfect because it offers a really genuine and authentic study abroad program."
In terms of a future career, Kangas plans to use her knowledge of religion and philosophy, as well as draw upon her own life experiences, to teach theology at a Jesuit high school.
"It is really easy to perceive theology as an old and boring subject; something high school students aren't always excited about," says Kangas. "I want to bring passion and energy to the subject and hopefully instill some interest in my students."
This summer, Kangas is back on the Spring Hill College campus, serving as a Badger Connection Guide for freshman. In July, she is staffing a mission trip for high school students from the Diocese of Dallas. She's also trying to travel as much as she can. Kangas recently returned from California, and has planned trips to Chicago and Galveston.
When the fall semester begins, Kangas will resume her duties as a Springhillian Student Ambassador and Badger Connection Guide, and will continue her involvement in the international student immersion program (ISIP) and her sorority, Phi Mu. She hopes to make the most of her senior year, balancing her studies and service work with time enjoying good friends.
"I've never seen a campus that has relationships like the ones present all over Spring Hill," says Kangas. "Spring Hill is a place where everyone can be comfortable in his or her own skin and loved all the same. Spring Hill becomes a part of us."
Link from the SHC website: http://www.shc.edu/news/2014/06/16/meeri-kangas-%E2%80%9915-peace-love-a...