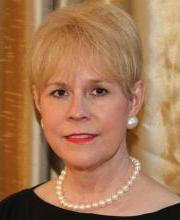 Leona Rowan, Ed.D.
Professor
Kappa Delta Pi Advisor
Gregory Lucey Adm Center, 2nd Floor
Dr. Leona Onderdonk Rowan is a professor of education at Spring Hill College in Mobile where she has been employed in the Division of Teacher Education since 2001. Her doctoral degree is in educational administration from Auburn University.  A lifelong educator, she first served as a teacher, curriculum specialist, and principal in the Mobile County Public School System.
Dr. Rowan teaches courses in language arts, classroom management, and human development as it relates to teaching and learning in P-12 schools.  In addition, she serves Spring Hill College as faculty advisor to the college's chapter of Kappa Delta Pi education honor society.  She has had a series of articles published in Kappa Delta Pi journals on topics that include bullying in schools, differentiated instruction, classroom management, effective parent-teacher partnerships, and active learning.