EDU Updates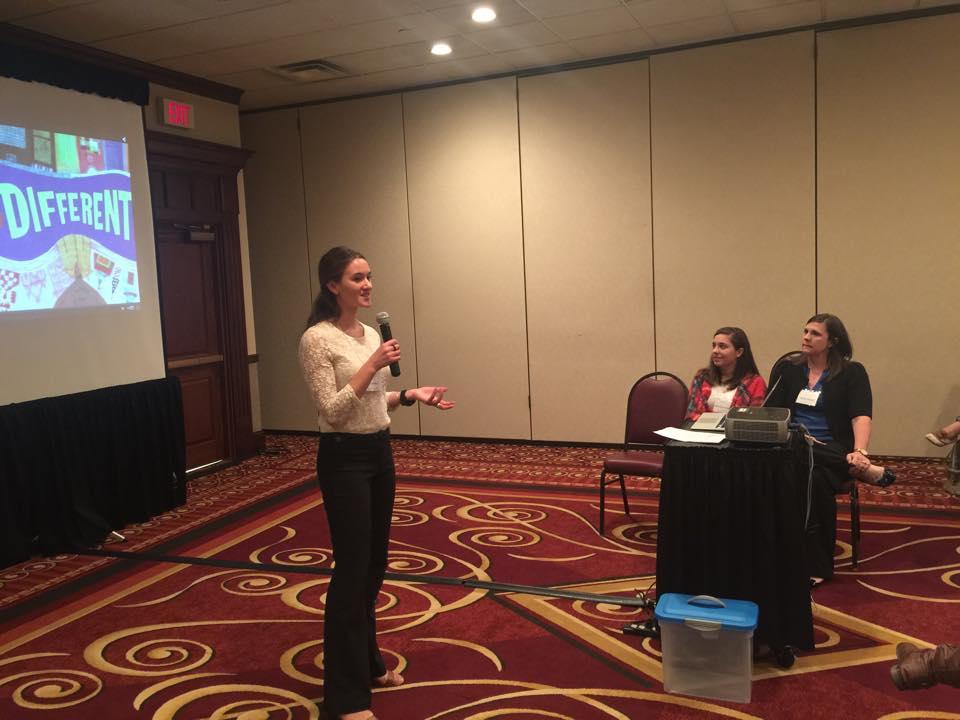 Clare Wojda, Amber Nelson, and Madeleine Ackels presenting at the Alabama Reading Association Conference in October 2015.  They presented their lessons on using reader's theater in the elementary classroom with Dr. April Sanders.
2015-2016 Updates
Dr. Leona Rowan received a $1000 grant from the Literacy Coalition of South Alabama. The money will be used for a literacy project in connection with EDU 325 Language Arts.

Education majors presented information regarding their participation in a  literacy grant project at Spring Hill College. Their presentation was to board members from the Literacy Coalition of South Alabama. L to R Clare Wojda, Atty. Ben Harris, Madeleine Ackels, Dr. Leona Rowan, Mrs. Brenda Chastain, Katie Simoneaux, and Dr. Larry Turner.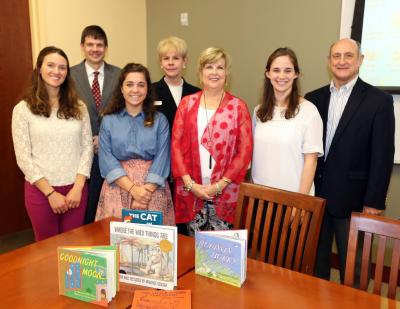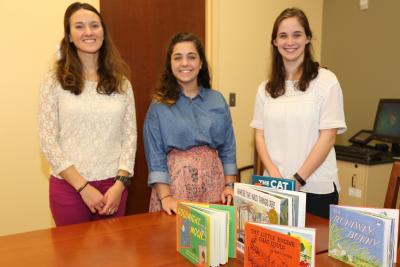 Dr. Lois Silvernail was awarded $1000 from the P.  Buckley Moss Foundation for Children's Education.  The money will be used for art supplies and Zentangle materials.
Dr. April Sanders published a book chapter titled  "Emotional response to gaming producing Rosenblatt's transaction." In Emotions, Technology, and Digital Games published in October 2015.
Dr. April Sanders will be presenting two papers at the American Education Research Association Conference in Washington D.C. in April and present a paper at the Southwest Educational Research Association Conference in February in New Orleans.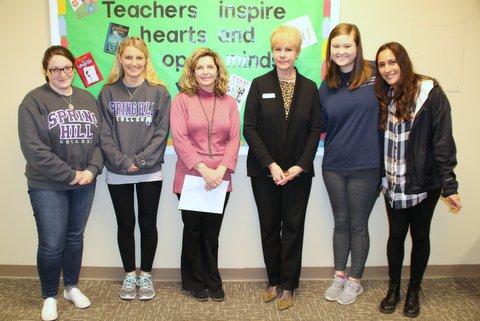 Lee Williams provided training to students in Dr. Rowan's class on the "Reading Buddy" program. This is a program sponsored by the Mobile Area Education Foundation, and several students in the class volunteered to work with children in area schools who need extra help with reading. 
2014-2015 Updates
"Active Learning: Engage Your Students" by Dr. Leona Onderdonk Rowan was published summer 2014 in The New Teacher Advocate
Dr. April Sanders will be presenting Creation and Use of a Digital Library For the Elementary Classroom in October at the Alabama Reading Conference and Pinning & Clipping: Using Pinterest and EDUClipper for Ongoing Professional Development at the 2014 Social Media Conference in November.

Dr. Leona Rowan, of Spring Hill College, and Mrs. Jessica Ross, of the Washington County Public Library, were awarded $2,500 each to fund their literacy projects. 
Showing Off Our Education Department T-Shirts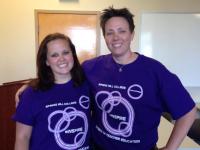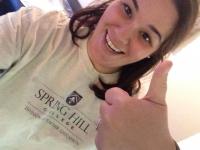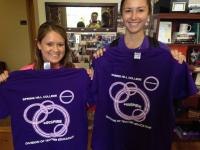 Honoring a Local Principal
Sarah Voorhees, a SHC Intern, and Dr. Rowan, representing the Metro Mobile Reading Council, present an award to Amanda Jones, Principal of Mary B. Austin Elementary School, for outstanding participation in the Young Authors' Conference.  

Alabama Reading Association Fall Conference
Several SHC Education Department students presented their work at a session during the annual fall conference in November 2013.  Dr. Leona Rowan mentored these students throughout the process of developing a presentation for a professional conference.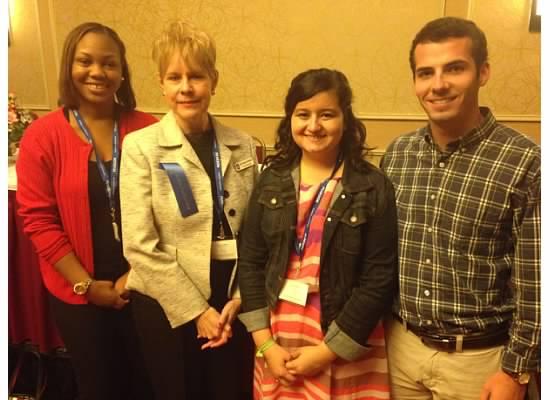 Students from the Education Department at SHC volunteered to help with the Young Authors' Conference, which is sponsored by the Metro Mobile Reading Council.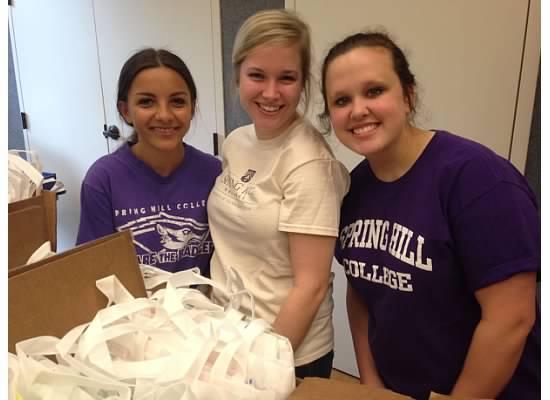 The University of North Texas College of Education has named Spring Hill College assistant professor April Sanders as one of two Outstanding Dissertation Award winners.