Google Map Project: Roadmap to Re-Entry in Mobile County to Prevent Recidivism
In partnership with the U.S. Attorney's Office for the Southern District of Alabama subcommittee of local re-entry service providers, our college's faculty, staff, students, and Jesuit Volunteer created the New Day Experience Re-Entry Resource Map to help previously incarcerated individuals reintegrate into society. The project's goal is to help reduce recidivism in Mobile County by providing a roadmap to re-entry resources. Recidivism occurs when someone who leaves jail is unable to adjust back to normal life and reenter society, and instead, parole violations or criminal activity leads to these individuals returning to jail. Our re-entry map project aims to reduce recidivism in Mobile County through assisting those who have been formerly incarcerated and returning to live in our area.  Through volunteer work or sociology internships (SOC299), SHC students plotted re-entry service providers, bus routes/stops, and free Wi-Fi spots on the Google Map for Mobile County. Additionally, students provided pertinent information to the electronic map's data tables for each location and included images to provide those in need with a point of contact and a visual orientation to the facilities. See figure below of a data table.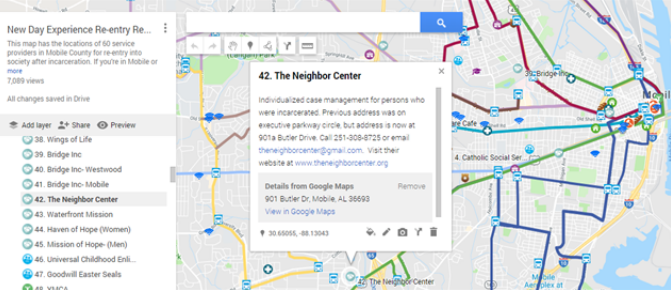 Data table of The Neighbor Center on Google Map
According to the Bureau of Justice Statistics' nationwide study of recidivism patterns from 2005-2014, "An estimated 68% of released prisoners were arrested within 3 years..." (2018, p.1). It is important that we help these citizens re-enter into society properly. Through initiatives such as the New Day Experience Re-entry Resource Map and the local re-entry service providers, Mobile County is providing a pathway for those who have been previously incarcerated to adjust to society in a way that allows them the opportunity to succeed. To learn more about our project and student and faculty collaborators, see our website: The New Day Experience.
The Scarlet Letter F Project
This was a weeklong project held by Spring Hill College and the Sociology department in order to address the stigma placed on the previously incarcerated. Julie Dobbs (SHC student) and Dr. Demetrius Semien headed this project. The idea stemmed from the work of Nathaniel Hawthorne's The Scarlet Letter A. The idea was to draw on the similar stigmas the main character in the book and those returning to society from jails and prisons face. ​The themes Hawthorne explores in The Scarlet Letter are almost identical to the themes we see in modern day prison reentry:
Judgment from society along with self-judgment,
Guilt of the convicted,
Isolation from society after being contained for years,
Public shaming from society, and
Loss of freedom even after serving their time.
Potential losses include voting rights, financial aid, and getting a job or a loan; all of this, if not completely, can be partially hindered because of one conviction.
Ms. Dobbs decided instead of having a scarlet letter "A" for adultery as in the book, they would use scarlet letter "F" for felon. During Scarlet Letter F Week, students throughout school came together and cut out scarlet letter F's and wore them the entire week to raise awareness of the stigmas previously incarcerated face. This week of solidarity was captured on Instagram using the #ScarletLetterF and helped promote related projects such as the reentry simulations. This project endeavors to change the meaning of the scarlet letter F from felon to freedom, faith, fellowship, and forgiveness. Dobbs added to the national movement to advocate for the previously incarcerated as the transition back into civil society. This project is ongoing and can be found at https://thescarletletterfproject.weebly.com/.
See the TEDx Talk on this topic by Julie Dobbs and Dr. Demetrius Semien at https://drive.google.com/file/d/0B8X6_7UGFItyRHpoam4xM1FWV1E/view?ts=58e...