Jordan Truxillo '14 ~ Sociology, Service, and Success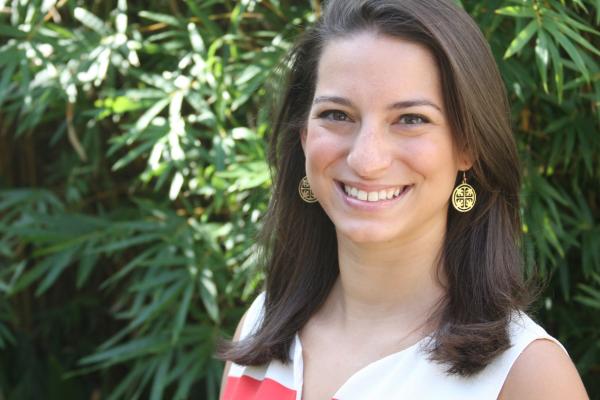 Classmates, faculty, and staff agree that Jordan Truxillo '14 exudes everything positive about being a Spring Hill College Badger. Known for her open, friendly disposition, Truxillo has spent the past four years at SHC making her mark as a caring and dedicated student, friend, and volunteer.
For Truxillo, who attended McGill-Toolen Catholic High School in Mobile, Ala., remaining close to the Gulf Coast was a top priority when choosing a place to do her undergraduate studies.
"I'd grown so attached to Mobile's beauty, its character, and the city's history," says Truxillo. "Also, I'm very close to my family, and everyone lives here. So, when I looked at Spring Hill College, I knew right away it was the right fit. The campus is gorgeous, and I love the fact that SHC has such small class sizes."
From her first few weeks on campus, Truxillo immediately made an impression on her professors, especially her advisor, Dr. Harold Dorton, director of Spring Hill College's sociology program.
"Jordan first talked to me about finding a degree that she could use to help people," says Dr. Dorton. "I think this says a great deal about Jordan as a person, and as a student. She has identified her purpose clearly, and uses that purpose to guide what she does."
Truxillo began at SHC as a nursing major, but decided to pursue a sociology degree instead, as the coursework and study were more aligned with her goals and ideals.
"I loved nursing, but I soon realized that I cared more about my patients' lives and making them happy, rather than focusing on the technical aspects of healthcare," says Truxillo. "I love people, and I've always been the person who is friends with everyone. I am very lucky in that I can create bonds with people from all walks of life—different backgrounds, ages, and social groups."
Truxillo is currently applying her knowledge and skill set as an intern at Via Health and Enrichment Senior Center in Mobile. In her position, Truxillo assists in all aspects of running the nonprofit organization, including fundraising, marketing, and special events.
In addition to her internship, Truxillo has volunteered at Little Sisters of the Poor, United Cerebral Palsy (working with mentally and physically handicapped preschoolers), SHC's RAD Kids Urban Survival Academy, and events benefitting St. Jude Children's Research Hospital.
Dr. Esteven Ruiz Limón, assistant professor of psychology, recognizes Truxillo as one of the most sincere and genuine students on the Spring Hill College campus. "She has a vibrant smile, and wholesome, positive nature that is infectious," says Dr. Ruiz Limón. "She is a great example of what our student body is capable of."
Truxillo is equally passionate about the personal attention and expert guidance she's received from the Spring Hill College faculty.
"What has impressed me the most about Spring Hill College is how invested the faculty is in the students," says Truxillo. "They genuinely care about our success and try very hard for us to thrive. I think this is what sets SHC apart. We all get genuine, one-on-one relationships, with not only our professors, but many people in other departments, too." 
Truxillo, one of Spring Hill College's resident advisors, also finds time to be involved in a number of SHC clubs and organizations. Since her freshman year, she's been a member of both Delta Delta Delta sorority and the Spring Hill College cheerleading squad. The past two years, Truxillo has served as cheer captain. She is also the secretary for the SHC Student Athlete Advisory Committee.
"Staying busy keeps me motivated. It pushes me to give my all in everything that I do," says Truxillo. "I live my life by this philosophy: Every day you wake up, and you have a choice; you can have a good day or you can have a bad one. It all depends on your attitude. When you think positively, it completely changes the way you see yourself, and your future."
Dr. Dorton praises Truxillo's energy and outlook on life. "I always appreciate Jordan's disposition and the way she sets a positive tone with so many people. Her experiences at Spring Hill College, as well as in her service and internship activities, have touched many people and set her on a career path that will surely benefit others. She represents SHC well as a student, and I have no doubt she will represent Spring Hill College well as a graduate."
Truxillo plans to stay in Mobile after graduation in May, and hopes to work for a nonprofit organization in the area of fundraising and programming.
Reprinted from: http://www.shc.edu/news/2014/04/25/jordan-truxillo-%E2%80%9914-sociology...
Reprinted from AL.com: Fear within Ferguson police due to communication barrier could have brought about excessive force, professor says
by Emily Hill ehill@al.com
The shooting death of an unarmed black teenager by a Ferguson, Mo. police officer brought about controversy nation-wide. Police suited-up in gear, and community members fled to the streets in hopes of getting their voices heard.
"If the police are going to serve as a community agent to serve and protect, they need to be working with the community instead of against the community," Spring Hill College Assistant Professor of the Department of Sociology Demetrius Semien said to AL.com
He began the interview with expressing sadness of the situation, that another teenager is no longer with us. The shooting brought about tear gas and rubber bullets, and Semien is glad that the community is concerned about this response.
"Police officers need to be equipped with the tools to handle their job responsibilities, and I think that's a good thing but I also think they need to be equipped with other skills such as conflict resolution skills and racial and ethnic sensitivity training," Semien said.
He explained that there's a different "social reality" that's happening, where police officers are ethnically diverse from the community they patrol and that hinders communication. This communication barrier brings fear to police officers, according to Semien. Fear might have caused the excessive use of equipment by police in Ferguson.
"People are feeling like they're in a military state, a police state, because they're being stopped and questioned constantly. They're driving while black, or driving while poor," Semien said.
"We don't need to have situations where the communities are afraid of those who are protecting and serving them, and police are afraid because they have no communication with community members to work with them.
"Excessive force is never excusable. If the fear police are living with forces them to shoot unarmed teenagers, that's something we can't live with nationally," Semien explained.
Link here:  http://www.al.com/news/index.ssf/2014/08/fear_within_ferguson_police_du....