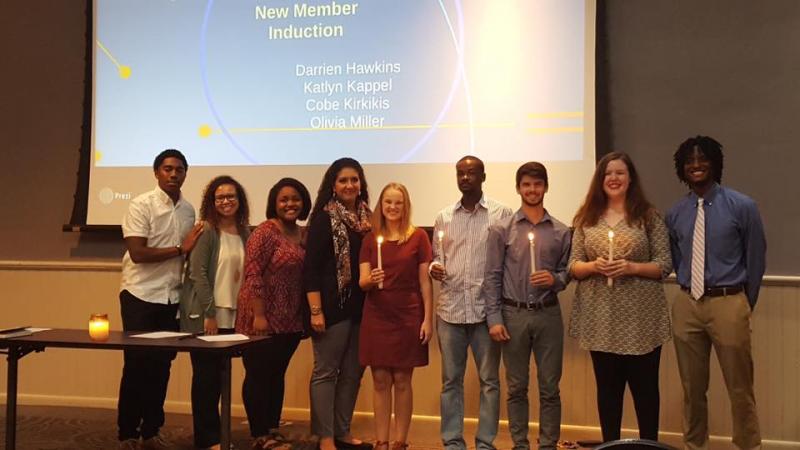 2017-2018 PSI CHI OFFICERS
President: Mary Hutti
Vice President: Olivia Miller
Secretary: Kathryn Mitchell
Treasurer: Meg Maurin 
Active Members: 
Margaret Maurin (Past Events Chair)
Allison Kamp
Chyanna Robinson (Past Vice President)
Cobe Kirkikis
Dorothy Brown
Kenneth Rose
Lauren Kasuda
Lily Shropshire
Mary Hutti (Past Social Media Chair)
Nicholas Weirath
Olivia Miller
Rachel Galiano
Shelby Smyth
Kathryn Mitchell
Lizzie Griffith 
Purpose Statement
Psi Chi is an international honor society whose purpose shall be to encourage, stimulate, and maintain excellence in scholarship of the individual members in all fields, particularly in psychology, and to advance the science of psychology.

Mission Statement
The mission of Psi Chi is to produce a well-educated, ethical, and socially responsible member committed to contributing to the science and profession of psychology and to society in general.

In pursuit of our mission we will:
    Advance the science and profession of psychology.
    Promote an educational experience consistent with the mission.
    Promote ethical and socially responsible members and leaders.
    Define and establish an organizational structure that promotes our mission.
    Recognize and foster the contributions that diversity makes to the science and practice of psychology.
Six Goals of All Chapters
1. Provide recognition of academic achievement
2. Encourage excellence
3. Advance the science of psychology
4. Provide a sense of community
5. Develop a forum to obtain and exchange information about psychology
6. Serve the local community
Requirements for Membership
Undergraduate students
be enrolled as a major or minor in a psychology program or a program psychological in nature

have completed at least 3 semesters or equivalent of full-time college coursework

have completed at least 9 semester credit hours or equivalent of psychology courses

have earned a cumulative GPA that is in the top 35% of their class (sophomore, junior, or senior) compared to their classmates across the entire university or the college that houses psychology (minimum GPA of 3.0 on a 4-point scale)

have a minimum 3.0 GPA average for psychology courses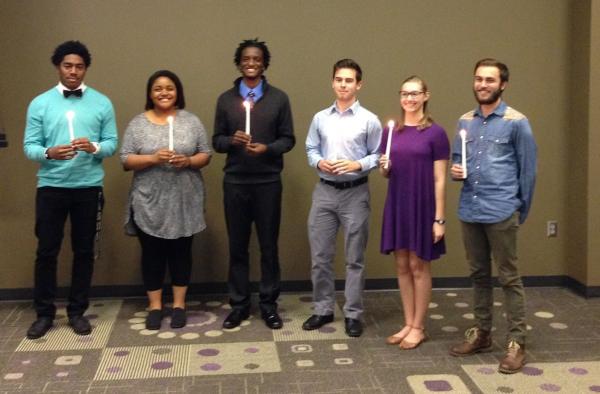 Lifetime Members (Graduated)
Natalie Abraham (Past President)
Kirsten Bordis (Past Secretary)
Tempey Hamilton (Past President)
Lauren LaForce
Paige Guillory (Recipient of the 2015-16 Psyche Chapter Award)
Amy Lyons (Past Treasurer)
Joshua Rocha
Emily Yokubaitis (Past Secretary)
Rachel Bach
Rebecca Benson
Victoria Bridges (Past Vice-President)
Shundrika Jones
Kristen DeAngelo (Past Treasurer)
Brooke Herren
Rachel McNeil 
Casey Barnett
Alexandra Moorehead (Past Treasurer; Recipient of the 2105-16 Cheires Chapter Award)
Jackson Howard
Maddie Perseghin 
Madeleine Laforge
Bridget Nourse
Harrison McNab
Tiffany Thomas
Hannah Yarbrough (Past President)
Jane Carriere
Whitney Lambeth
Joseph  Iacobucci        
Greg Overbeek
Amber Bowie (Past Vice-President)
Ashlea Wattenbe
Jolene Bruard
Kimberly McCoy
Emily Wellmeier (Past President; Recipient of the 2015-16 Leadership Chapter Award)
Susanna Whitman (Past Treasurer)
Tyler LaPointe
Melvin Lang (Past Secretary; Recipient of the 2015-16 Service Chapter Award)
Karrie Quirin (Recipient of the 2014-2015 International GEICO/Psi Chi Undergraduate Scholarship; Recipient of the 2015-16 Mentor Chapter Award)
Catherine Laughlin 
Emily Thrush (Recipient of the 2015-16 Psyche Chapter Award)
Arianne Stallings
Jasmine Littles
Zachary Hahn 

DeShala Hunt
Maggie Mastrogiavanni (Past Historian)
Alexis Mogil 
Suzanne Monlezun
Hannah Masoner
Barry Murray (Past Secretary)
Carol "Dee Dee" Newsome (Past Secretary)
Claire Oswald 
Jasmin Pizer
Jessica Richmeyer 
Wilfred Santiago (Past Treasurer)
Joshua Scarborough 
Conner Peth

Advisor: Dr. Amanda ElBassiouny 
For more information visit, http://www.psichi.org/