Dr. Gibson Gives Wellness Presentation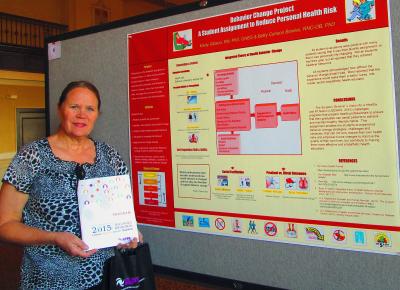 Dr. Marty Gibson presented a poster at a Wellness Conference for the Association of Prevention, Teaching, and Research (APTR) at the Frances Marion Hotel in Charleston, South Carolina, March 15-17, 2015. 
The presentation focused on using a behavior change to teach nursing students how to not only be accountable for their own health, but also to be better mentors for their client's health. 
This project was a collaborative event with Dr. Betty Bowles from Midwestern State University.
SHC Grad Awarded Grant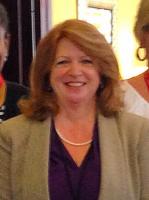 Shelia Ross, RN, MSN, CNL, CCRN, a Clinical Nurse Leader (CNL) graduate of our program, who also teaches Pharmacology to our undergraduate nursing students as an adjunct in the fall, is currently the Stroke Coordinator at Mobile Infirmary Medical Center.  She wrote and received an educational grant for the hospital of $15,000 from Genentech to be able to put on the regional stroke symposium: ​"Stroke Systems of Care: Together We Are More".  
This was held Friday, March 20, 2015 at the Renaissance Riverview Plaza Hotel in Mobile, Alabama. This symposium offered educational and cutting-edge treatment options for healthcare providers both locally and regionally for the care of stroke patients.  According to Mrs. Ross, "Community education and continuing education is part of my role as stroke coordinator for a certified primary stroke center.  I felt that, as leaders in the state with our stroke program, we are obligated to provide information and we have so much talent locally, that we could do this (put on a regional program).  We wanted to tie everything together from calling 911 through to discharge." 
SHC Faculty Member Develops Video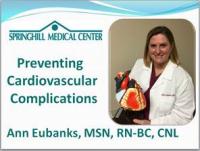 Ann Eubanks, MSN, RN-BC, CNL, a graduate of the Clinical Nurse Leader program at SHC in 2010, and currently an undergraduate nursing adjunct faculty, recently developed a video titled "Preventing Cardiovascular Complications". 
In order to improve their diabetic services, the educators of that area at Springhill Medical Center, requested that staff do some videos as part of the process, devoted to education for the lay public. As Cardiovascular Service Line Coordinator for the hospital, Ann developed this video for use in the outpatient diabetic education classes in March. 
This video can also be viewed on the closed circuit television provided to the patients throughout the hospital. 
Spring 2015 Heartland-Delta Faculty Conference
Dr. Ola Fox (second from right) was one of the four SHC faculty delegates who attended the Spring 2015 Heartland-Delta Faculty Conference titled:  "Ignatian Imagination and Teaching Excellence".  The conference was held February 20-22, 2015 at Regis University, Denver, Colorado. Each February, the Heartland Delta group sponsors this faculty formation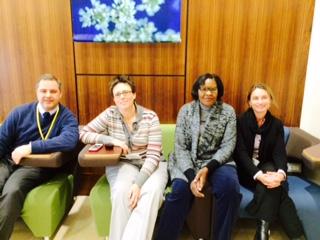 experience, often linking its conference with the themes in the Spring Issue of Conversations on Jesuit Higher Education.
The 2015 issue of Conversations on Jesuit Higher Education focused on "The Spiritual Exercises as Foundation for Jesuit Higher Education." Ola participated in sessions on how to incorporate elements of Ignatian spirituality into interactions with students. 
Ola Fox also attended the 2015 AACN Master's Education Conference, February 26-28, 2015, in St. Petersburg, Florida. 
The purpose of the program and her personal goals accomplished by attending included: 
Explored the present state of master's education in nursing and where it is going;
Determined opportunities and imperatives for master's prepared nurses;
Considered how the graduate nursing curriculum should reflect the realities of a dynamic and complex healthcare system; and
Investigated new strategies for online learning. 
SHC's SNA Members Volunteer at the Ronald McDonald House
Ten members of the Spring Hill College Student Nurses' Association (SNA) recently volunteered their time to the Ronald McDonald House for a community service project. Our student nurses purchased and cooked food for 40 family members, as well as offered support and comfort, helping these family members work through chronic or medical crisis situations.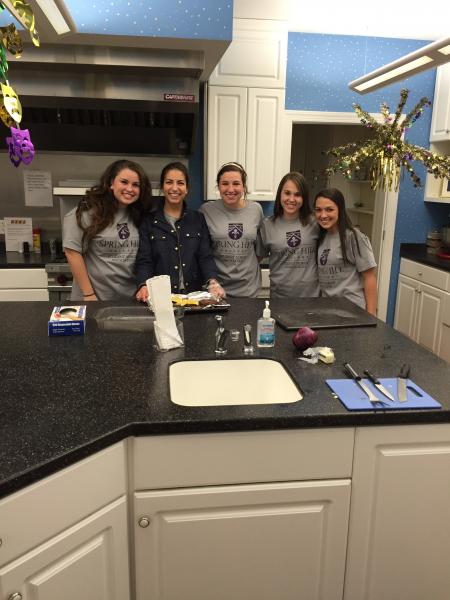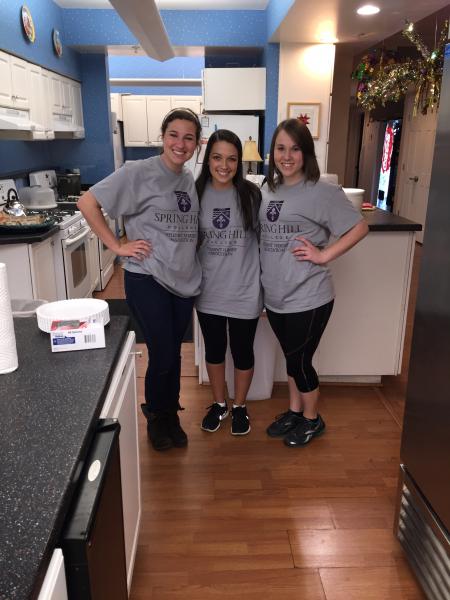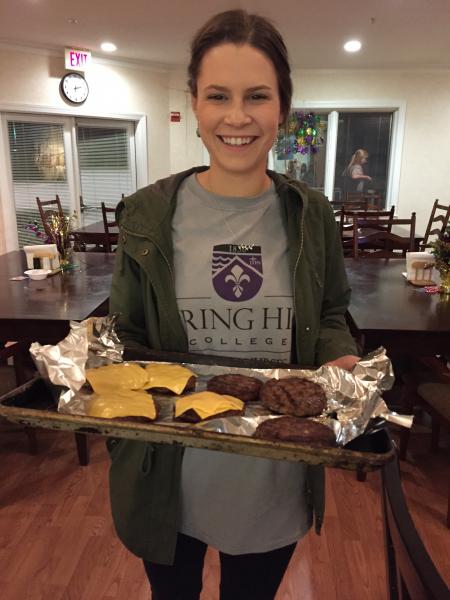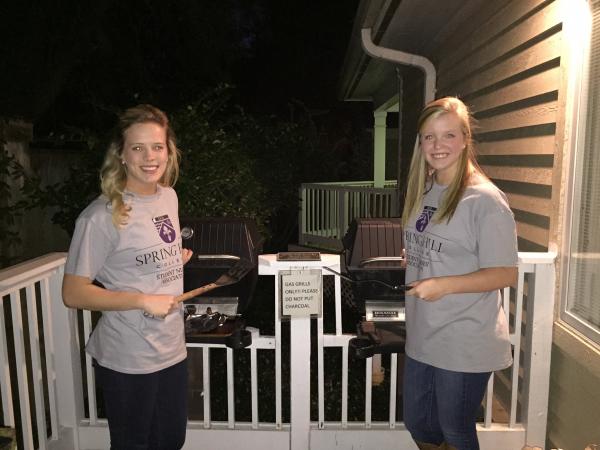 Hearts of Gold ~ Kayla & Krista Owens '16

Don't worry, you're not seeing double in the Spring Hill College nursing department, library, or student center. You've probably caught a glimpse of one of SHC's dynamic duos:  students Kayla and Krista Owens '16, identical twins from Daphne, Ala.
"We were offered great scholarships and we feel at home on the beautiful campus," says Kayla Owens. "We love the idea that St. Joseph Chapel, which stands between Burke Library and the student center, represents the Jesuit connection of mind, body, and spirit."
The sisters, who commute daily to SHC from the Eastern Shore, were initially drawn to SHC because of the college's reputation for providing an exemplary education in small class settings. The Owens twins, who share many of the same interests and activities, have found that attending the same school is a natural fit.
"With both of us in the same program, it is nice to be able to keep the same class schedule," says Krista Owens. "We can study together too, and we like to push each other to do our best."
Spring Hill College nursing instructor Joan Sands, RN, M.Ed., has enjoyed having Kayla and Krista in several classes. She commends the sisters for being supportive of each other and remaining each other's strongest advocate. Sands sees the twins' enthusiasm as one of their greatest assets.
"I have seen severely depressed patients lighten up when Kayla and Krista walk into the room.  Part of it is that Kayla and Krista are upbeat when they go into their patients' rooms," says Sands. "Another part of it though is that people, including their patients, are intrigued by twins. Since they are both so approachable, patients take the opportunity to find out what it is to be a twin and the girls are willing to share their insight."
The Owens twins both intend on continuing their nursing education after receiving their bachelor's degrees from Spring Hill College in May of 2016. Their goal is to pursue an advanced nursing degree, and the twins are considering all options, from completing Master of Science in nursing (MSN) degrees to becoming certified registered nurse anesthetists (CRNA).
SHC Associate Professor of nursing, Dr. Martha Gibson, sees a bright future for Kayla and Krista. Because they often go the extra mile on their assignments, Gibson uses their work to determine what an exemplary student would be expected to do.
"When I first had them in class, I had such a difficult time telling them apart. As they have progressed through the program, they are coming into their own, capitalizing on their own personal strengths. That makes it easier to tell them apart," says Dr. Gibson. "You will usually see them in class early getting in extra study time and staying later to ask questions or to practice on additional skills. They are professional and have hearts of gold."
Kayla and Krista are members of both the Delta Delta Delta sorority on campus, as well as SHC's Student Nurses Association. Both women tutor local students through the Foley Community Service Center and have volunteered for the United Way of Southwest Alabama at events benefiting the Dumas Wesley Community Center, Sybil H. Smith Family Village, the Sickle Cell Anemia Association of America, and the Bay Area Food Bank.
When asked about advice they might offer new students at Spring Hill College, the twins agree that preparation and time management are crucial to doing well in class. They also stress the importance of finding time to have fun with a good group of people or organization.  
"I live my life according to the belief that if you work hard, you can achieve anything," says Krista Owens. "Hard work doesn't guarantee success, but it improves the chances for yourself and others."
Kayla adds her own sentiment to succeeding at Spring Hill College: "Although times may get challenging, perseverance is important," says Kayla Owens. "I live my life according to the belief that if you give your all for the things you want, amazing things will happen for others, as well as yourself."
Tyrone Barnes '14 ~ The Time to Make A Difference is Now

After spending years on the road and caring for thousands of patients, a brief stop back in Tyrone Barnes' hometown of Mobile, Ala., completely changed the direction of his career.
Barnes, who then lived in Houston, Texas, decided to stop by Spring Hill College's division of nursing to visit some old professors. While on campus, he had the chance to speak to Dr. Ola Fox about his dreams and aspirations.
"Dr. Fox listened, and then recommended that I look at Spring Hill's Master of Science in Nursing. The clinical nurse leader (CNL) degree track was exactly what I was looking for—allowing me to operate in an advanced nursing role and maintain frequent contact with patients and healthcare providers," says Barnes. "I already believed in the SHC mission, values and goals, so my decision was easy. I applied right away."
Fox, the Spring Hill College nursing department's graduate program director, remembered Barnes from his undergraduate years at SHC, and particularly, the contributions he made to The Springhillian student newspaper. "He wrote in one of his columns that, 'Personally, I have an insatiable appetite for offering hope and inspiration to others. I think it is fulfilling to know that you have turned a person's day around with a gesture as simple as a smile. I do believe that it is possible to help yourself by…making someone else's life run more smoothly.'"
Dr. Fox observed that Barnes actually described desirable characteristics of a clinical nurse leader. "Tyrone brought his insatiable appetite for offering hope and inspiration to others to the online classroom and his clinical practice as a RN team leader," adds Dr. Fox. "This spirit of selflessly caring about the lives of others had made him a trusted leader among his fellow students. I am proud to be a part of his journey to advance his nursing education."
While in graduate school, Barnes worked as a telemetry and oncology nurse at Springhill Medical Center, a level II trauma hospital. His responsibilities included caring for a vast array of patient populations with various health issues, counseling families, and collaborating with healthcare providers to formulate patient treatment plans. 
"It was a challenge to balance work and my courses," says Barnes. "During graduate school, I worked weekends only in order to have consecutive weekdays off to complete class assignments and participate in clinical activities. I would often steal away to Burke Memorial Library or computer lab for a quiet space to complete my classwork. I quickly learned how to make the most of my time and adhere to a strict schedule."
During his graduate studies, Barnes worked most closely with Dr. Fox, his advisor, but found the caliber of nursing professors at Spring Hill College to be exceptional. 
"They all bring a variety of thoughts and ideas to the intellectual table, nurturing students, and encouraging open-mindedness," says Barnes. "My favorite course during the program was Theoretical Principles of Leadership and Management. In this class, I learned how to align my thoughts and ideas with structured theories and rules that I will use in the field as a clinical nurse leader."
Barnes completed Spring Hill's nursing program and graduated with his MSN in May. His career plans include securing a position as a clinical nurse leader, completing several nursing practice and teaching certifications, and, later, pursuing a doctorate of nursing practice, the terminal degree for an advanced practicing nurse.
"My experiences as a nurse and as a graduate student at Spring Hill College have taught me to be the change I would like to see in the world," says Barnes. "There is no future like the present and the time to make a difference in one's life is now. I believe that these are the so
rt of leaders that Spring Hill College fashions and puts forth into the world."
For those students new to Spring Hill College and graduate school, Barnes advises time management, hard work, and continuous improvement, as well as rest and relaxation.
"There are a myriad of great opportunities that await those who work diligently and prioritize accordingly," says Barnes. "A critical adult concept I am trying to master now is to think ahead so that I do not get behind.  However, it is also important to take a break every once in a while. After all, most people only get to experience college once."
In his free time, Barnes enjoys movies, video games, and spends time with friends, family, and his Labrador Retriever. He has an 11-year-old sister named Ashanti, an honor roll student at Clark-Shaw Magnet Middle School and member of the Port City Blazers basketball team.
Original Article:  http://www.shc.edu/news/2014/05/30/tyrone-barnes-%E2%80%9914-time-make-d...