The nursing curriculum consists of two phases: pre-professional and professional. The pre-professional phase is open to all students declaring nursing as their major and consists of the courses included in the first three semesters of the program. Admission to the professional phase, which begins the second semester of the sophomore year, involves the fulfillment of specific requirements and a separate application reviewed by the nursing faculty.
Students must apply for admission to the professional phase during the semester in which they are completing their preprofessional and prerequisite courses by submitting a complete and accurate nursing professional program application. Enrollment is limited and the admission process is selective and competitive. Spring Hill students who have been enrolled for two traditional semesters, excluding summer, will receive priority for admission placement.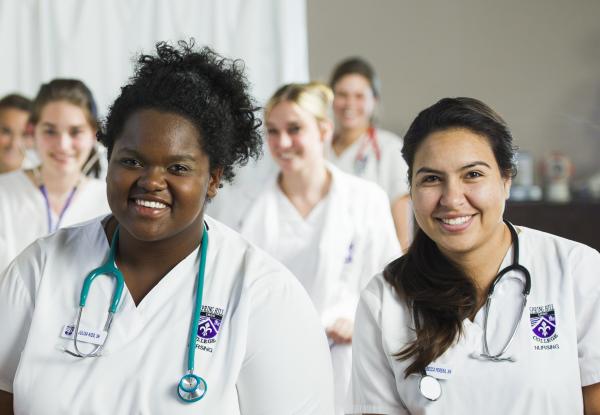 Minimum criteria for admission to the professional phase:
Minimum composite American College Test (ACT) score of 21.
Achieve a minimum cumulative grade point average of 3.0 in all Spring Hill College courses. 
Achieve a minimum of a 3.0 in BIO 231, 232, 233, 234, 136 138; MTH 163; CHM 101; PSY 101, 204, 225; NUR 100 and 201.
Submit complete health records required by the Division of Nursing including physical examination and immunizations either with application or no later than first day of class.
Meet essential mental and physical qualifications of the nursing program as outlined in the Disability Statement included in the Nursing Student Handbook.
Transfer students must submit letter of good standing from all academic institutions/nursing programs that they have attended in order to be admitted to the Division of Nursing. Letters from academic institutions are to be addressed to Admissions and letters from nursing programs to Dr. Margaret Cole, Division of Nursing Chair.
Give consent and authorization and accept responsibility for cost of background screening and drug screening to be conducted in the beginning of the fall semester.
If a student withdraws from or receives a grade lower than a C in any of the courses listed under number 3 above, the student must complete the course at Spring Hill College or an approved four-year college or university.
The Baccalaureate Degree Program in Nursing and the Master's Degree Program in Nursing at Spring Hill College are accredited by the Commission on Collegiate Nursing Education (http://www.ccneaccreditation.org).
Spring Hill College also has the approval of the Alabama Board of Nursing.
Alabama Board of Nursing  P.O. Box 303900 Montgomery, AL. 36130-3900