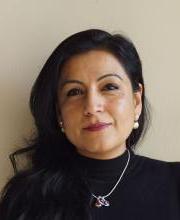 Cinthya Torres
Assistant Professor of Spanish
Lucey Administration Building 255
Dr. Cinthya Torres is an Assistant Professor of Spanish at Spring Hill College. She holds a Ph.D. in Spanish and Portuguese from Harvard University and a B.A. in Literature from the Universidad Nacional Mayor de San Marcos in Peru. At Spring Hill, Dr. Torres teaches undergraduate courses in language, literature, and culture.   
Her research explores how territory and mapping informed discussions of cultural identity and nationhood in the Amazon River Basin at the turn of the twentieth century, a time in which most countries in the region were in the process of demarcating their modern borders. Through the framework of territorial disputes during the Amazon rubber era (1850-1920), her book project, tentatively titled Contested Frontiers: Geography, Literature, and the Politics of Mapping in the Amazon Basin, proposes a new theoretical approach to the study of nation-building by considering the politics of mapping and offering new clues as to how social and political forces that took place in the borderlands influenced attitudes and behaviors at the local, national, and even transnational level.  
Dr. Torres's publications and book reviews have appeared in INTI: Revista de Literatura Hispánica, Revista de Crítica Literaria Latinoamericana, Revista Peruana de Literatura, Revista Iberoamericana, and Hispanic Review.
Education:
Ph.D., M.Phil., MA., Harvard University
B.A., Universidad Nacional Mayor de San Marcos, Lima, Peru.
Recent Courses Taught:
Survey of Spanish-American Literature (1500-1900)
Advanced Grammar and Composition
Paradise Unbound: Nature and Literature in Latin American
Intermediate Spanish
Beginning Spanish