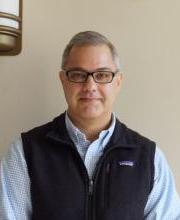 Fabián Balmori
Associate Professor and Altmayer Endowed Chair in Literature
Chair, Department of Modern Languages, Literatures, and Cultures
Lucey Administration Center 259
Born in Spain, Dr. Balmori has lived and worked in European and Latin American countries.  He has an extensive knowledge of Hispanic culture and literature, and a background in International Business. His research interests include Latin American Poetry, Hispanic cinema, and Caribbean literature. Dr. Balmori is the Hispanic Studies Program Director and Chair of the Department of Modern Languages, Literatures, and Cultures.
---
Selected Courses
Cervantes: Don Quixote 
Latin-American Poetry: Modernism to 21st Century.
Human Rights in Latin American Literature.
Survey of Latin American Literature.
Latin-American Culture Through Art
Contemporary Latin-American Fiction.
Introduction to Spanish Readings.
Hispanic Cinema.
Selected Publications
"Taste Moves [El gusto se mueve]." Translation, Negative Capability Journal. (Spring 2020). Forthcoming.
"La última cena [The Last Supper]." Label Me Latina/o (Spring 2017)
"La plaza [The Plaza]." Pegaso. 2 (2007): 123-124.  
"Paradigmas de violencia en El desbarrancadero de Fernando Vallejo [Paradigms of Violence in The Precipice by Fernando Vallejo]." HiperFeira, Arts and Literature International Journal. 8 (2005).  < http://www.sinc.sunysb.edu/Publish/hiper/num8/Articulos/balmori.htm >.
"La dialéctica de la heterogeneidad latinoamericana en Concierto Barroco [Dialectics of Latin American Heterogeneity in Concert Baroque]." Nuevas Lecturas de Alejo Carpentier. Ed. Alexis Márquez Rodríguez. Caracas: Universidad Central de Venezuela, 2004. 223-229.
"El hombre imaginado y la obra sin título [The Imaginary Man and the Story Without a Title]." El Cid. (The Citadel) XVI (2004): 16-17.
Selected Presentations
"Derechos humanos y ficción: La narrativa venezolana del siglo XXI [Human Rights and Fiction: Venezuelan Narrative in the Twenty-First Century]." SAMLA, Atlanta, Georgia, 2019.
"It Would Be Night In Caracas: Sainz Borgo on Human Rights." MIFLC, Auburn, Alabama, 2019.
"Caracas en la literatura contemporánea venezolana [Caracas in Venezuelan Contemporary Literature]." SAMLA, Birmingham, Alabama, 2018.
"Rubén Darío y el poema en prosa [Rubén Darío and the Prose Poem] 23rd Central American Literature and Culture Conference, New Orleans, Louisiana, 2015.
"Colectores de la palabra: Caracoles, sortijas, caracolas [Word Collectors: Seashells, Ringlets and Spirals]." SAMLA, Atlanta, Georgia,2011.
"Searching for Identity: American Literature Written in Spanish." PCAS/ACAS, New Orleans, Louisiana, 2011.
"Emigración y literatura: El canon nacional cubano [Emigration and Literature: The Cuban National Canon]." SAMLA, Atlanta, Georgia, 2010.
"Hibridez poética en Lezama Lima [Poetic Hybridity in Lezama Lima]." 63th Kentucky Foreign Language Conference. University of Kentucky, Lexington, 2010.
"Símbolos y mitos culturales en la narrativa de José Lezama Lima [Symbols and Cultural Myths in the Narrative of José Lezama Lima]." VII Congreso Internacional de Literatura Hispánica. Cusco, Perú, 2008.