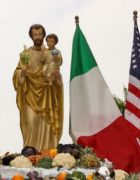 Saint Joseph is not only the patron saint of Sicily, he is also the protector of workers, immigrants and travelers. As such, he is an ideal figure for celebrating our campus' commitment to social justice and solidarity with people of all religious faiths and backgrounds.
Come together with the campus community for an afternoon of creative baking of different types and shapes of breads to help decorate our campus' Saint Joseph's Day altar. The event will take place on March 18 from 1-4 p.m. at Stewartfield. You are encouraged to bring a spirit of adventure as well as an offering of canned goods (which will be gifted to local food banks to help those suffering from food insecurity in our community). We will have experienced bakers on hand to help us with recipes and design. Once we finish, we will take our canned and baked goods to the campus altar for decoration. 
For more information: Dr. Matthew Gervase (mgervase@shc.edu).