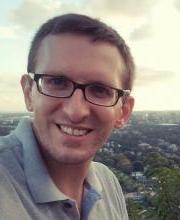 Dr. Nicholas P. Wood
Ph.D University of Virginia, 2013
M.A. Rutgers University-Camden, 2007
MEd Rutgers University-New Brunswick, 2003
B.A. Rutgers University-New Brunswick, 2002
Nic Wood is an assistant professor of early American history at Spring Hill College, specializing in slavery, abolitionism, race, and politics in 18th- and 19th-century America. A full CV here.
In addition to upper level courses on early American history, Dr. Wood teaches the core-curriculum course HIS 120: American Historical Studies, rotating themes between slavery (in the fall) and biography (in the spring).
Dr. Wood is completing a book manuscript, Before Garrison: The Revolutionary Generation of American Abolitionists, which is under contract with the University of Pennsylvania Press.  Before Garrison traces the development of a coherent national abolitionist movement from its origins during the 1750s and shows how early Quaker and African American activists collaborated closely together and pioneered tactics that scholars commonly associate with William Lloyd Garrison in the 1830s.  Dr. Wood has also published articles on topics such as seventeenth-century Quaker antislavery, antebellum black civil rights, and abolitionist fiction. 
Book Project
Before Garrison: The Revolutionary Generation of American Abolitionists (under advance contract, University of Pennsylvania Press)
Peer-Reviewed Essays
"The Missouri Crisis and the 'Changed Object' of the American Colonization Society," in New Directions in the Study of African American Recolonization, eds. Beverly C. Tomek and Matthew J. Hetrick (Gainesville: University Press of Florida, 2017), 146-65
"'To Friends and All Whom It May Concerne': William Southeby's Rediscovered 1696 Antislavery Protest," (with Jean R. Soderlund) Pennsylvania Magazine of History and Biography 141 (April 2017): 177-98
"A 'class of Citizens': The Earliest Black Petitioners to Congress and Their Quaker Allies," William and Mary Quarterly 74 (January 2017): 109-44
"Jefferson's Legacy, Race Science, and Righteous Violence in Jabez Hammond's Abolitionist Fiction," Early American Studies 14 (Summer 2016): 568-609
"John Randolph of Roanoke and the Politics of Slavery in the Early Republic," Virginia Magazine of History and Biography 120 (Summer 2012): 106-143
"'A Sacrifice on the Altar of Slavery:' Doughface Politics and Black Disenfranchisement in Pennsylvania, 1837-1838," Journal of the Early Republic 31 (Spring 2011): 75-105

Spring Hill College Courses
HIS 120: The Problem of Slavery in American History
HIS 120: Early American Lives
HIS 203: Historical Methods
HIS 341: Colonial America
HIS 342: The American Revolution
HIS 343: The Age of Jefferson and Jackson