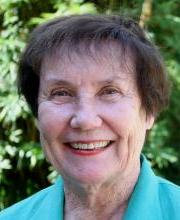 Dr. Patricia Harrison
Ph.D, History, Tulane University, 1994
Graduate Study, University of Wisconsin-Madison, 1965-1967
M.A., History, Southern Methodist University, 1964
B.S.E., Henderson State University, 1959
Patricia Greenwood Harrison teaches modern European history, women's history, and western civilization. Her research focuses on the connections between the British and American woman suffrage movements.
Publications  
Connecting Links: The British and American Woman Suffrage Movements, 1900-1914.  Greenwood Press, 2000.  Currently in second printing.

"Riveters, Volunteers and WACS:  Women in Mobile during World War II," in Michael Thomason (ed.) Down the Years:  Articles on Mobile's History.  Gulf South Historical Review special edition, 2001.

"Riveters, Volunteers and WACS:  Women in Mobile during World War II," in Nancy F. Cott (ed).) History of Women in the United States:  Historical Articles on Women's Lives and Activities.  Munich: K.G. Saur, 1992-1994.  (United States:  University Publications of America).  Twenty volumes.  Article reprinted in Volume Fifteen, Women at War (1993).   

Professor Harrison contributed an article on women's suffrage to the Oxford Encyclopedia of the Modern World (Oxford University Press, 2008).  

Professor Harrison appeared in the documentary, "Demanding the Voter:  The Pankhursts and the British Suffrage Movement" (Lucasfilm, 2007).

Service

Professor Harrison served as Chair of the History Department from 1996 through May 2012.

Awards

2009-2010 Spring Hill College Teacher of the Year.

2001 Dawson Research Award.

1991, 1996 H.J. Fagot, S.J. Award.  Award by Student Government Association to faculty member for service to the student body of Spring Hill College.

Summer, 1989   Mitchell Faculty Development Grant.  Grant awarded for trip to Russia (St. Petersburg and Moscow) via Berlin.

Spring Hill Courses
Europe: 1815-1900
Europe in the Era of the World Wars
Europe Since 1945
Women in European History
Senior Seminar
Western Civilization
*****
Office: 309 Quinlan
Phone:
251.380.3061