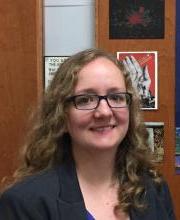 Dr. Alexandria Ruble
Ph.D., History, University of North Carolina at Chapel Hill, 2017
M.A., History, University of North Carolina at Chapel Hill, 2012
B.A., History, Christopher Newport University, 2010
Alexandria Ruble is an assistant professor of European history. Dr. Ruble's research interests include modern European and German history, post-1945 East and West German history, women and gender in Europe, global/comparative history, and the history of the Cold War. 
Dr. Ruble is working on a book manuscript, tentatively titled Protecting Families, Dividing States: The Struggle to Reform Family Law in East and West Germany, 1945-1976. Her book examines the parallel reforms of marriage and family law in both postwar German states after World War II. A relic of the late nineteenth century, family law designated women as second-class citizens in marriage, parental rights, and marital property. Despite the upheavals of the early twentieth century--the disintegration of the German Empire after World War I, the tumultuous Weimar Republic, and the violence of the Third Reich--family law remained on the books. After Nazi Germany's defeat in 1945, female activists pushed for reforms, but their proposals remained in limbo as the Western Allies and the Soviets determined the fate of Germany in the burgeoning Cold War. After the formal division of Germany in 1949, politicians in both East and West Germany pursued reforms of the law, seeing the reconstruction of gender roles as not only a necessary foundation for their new states, but also as a weapon to wield in the intensifying Cold War. It was the Cold War competition, this book argues, that pushed both sides to reform the longstanding law at last.
Her work has been supported by the Social Science Research Council, the Fulbright US Student Program, the German Academic Exchange Service, the Central European History Society, the UNC Graduate School, the Ruhr University Bochum, and the American Council on Germany.
Publications
ARTICLES
"Children, Church, and Rights: West and East German Protests against Family Law Reforms, 1954–55," in Gendering Post-1945 German History: Entanglements, eds. Karen Hagemann, Donna Harsch, and Friederike Brühöfener (Berghahn Books, 2019).
"Postwar Paternalism and Modern Mothers: Changing Families in 1950s West Germany," in A History of the Family in Modern Germany, ed. Lisa Pine (Bloomsbury Academic, forthcoming). 
REVIEWS
Review of Creech, Jennifer L. Mothers, Comrades, and Outcasts in East German Women's Film. Indiana University Press, 2016. H-German. H-Net Reviews (2017).
Review of Puaca, Laura Micheletti. Searching for Scientific Womanpower: Technocratic Feminism and the Politics of National Security, 1940-1980, 2014. In Traces: The UNC-Chapel Hill Journal of History, volume 4 (2016).
Review of Heineman, Elizabeth. Before Porn Was Legal: The Erotica Empire of Beate Uhse. University of Chicago, 2011. In Traces: The UNC-Chapel Hill Journal of History, volume 3 (2015).