Certificate of Spiritual Direction (CSD) or Faith Companioning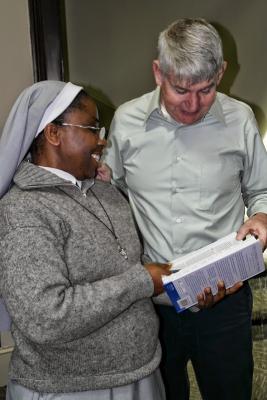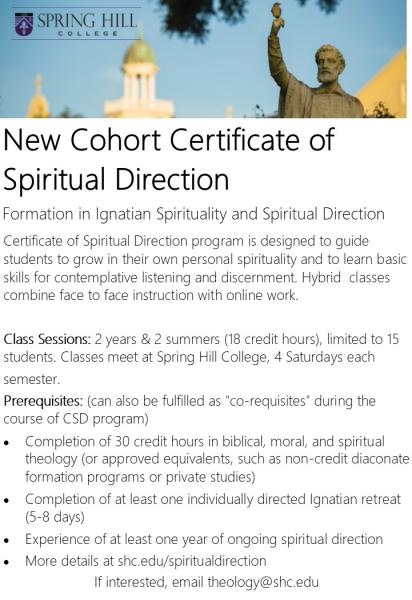 This certificate is designed especially for clergy, religious and lay persons with theological preparation, who seek a deeper grounding in this ministry. Course work includes four semesters plus courses completed during the Summer Institute of Christian Spirituality.
The CSD may be completed in conjunction with the Master of Pastoral Studies program for students who would like to earn a degree. This program is available in Mobile, Atlanta and Charleston.  Admission is normally open every other year (Download the CSD Application PDF below).
Because of the nature of spiritual direction, effective preparation for this ministry requires both extensive professional training and distinctive personal qualities. The Certificate of Spiritual Direction (CSD), therefore, is built on selective admission requirements. Yearly evaluations of each candidate's aptitude are conducted by the faculty in dialogue with the candidate.
The Certificate of Faith Companioning is designed for those who wish to share faith and prayer with others along the journey of spiritual growth, but do not have the vocation of being a spiritual director.
When  class is held in Mobile, the Charleston cohort will participate online through Google Meet; when class is held in Charleston, the Mobile cohort will participate through Google Meet. Students can join Google Meet from their own computer (either individually or with one or more classmates), without traveling to the classroom site.
Spring 2021
MOBILE (8:30am-2:30pm CT) & CHARLESTON** (9:30am-3:30pm ET) - SPT 592 Spirituality & Psychology Seminar

Class 1: Jan 16, Charleston
Class 2: Feb 20, Mobile
Class 3: Mar 20-21, Charleston, WORKSHOP: 8:30am-4:00pm CT & 9:30am-5:00pm ET
Class 4: Apr 17, Mobile
ATLANTA* - SPT 598 Spiritual Direction Practicum II
Class 1: Jan 16, 8:30am-2:30pm
Class 2: Feb 20, 8:30am-2:30pm
Class 3: Mar 20, 8:30am-2:30pm)
Class 4: Apr 24, 8:30am-2:30pm
The Curriculum
Prayer & Discernment I & II - (2 credit hours)
The Spiritual Exercises of St. Ignatius I & II - (2 credit hours)
Spiritual Direction Seminar - (3 credit hours)
Spirituality & Psychology Seminar - (3 credit hours)
Spiritual Direction Practicum I & II - (4 credit hours)
Four-credit hours in spirituality electives
Prerequisites listed below***
Frequently Asked Questions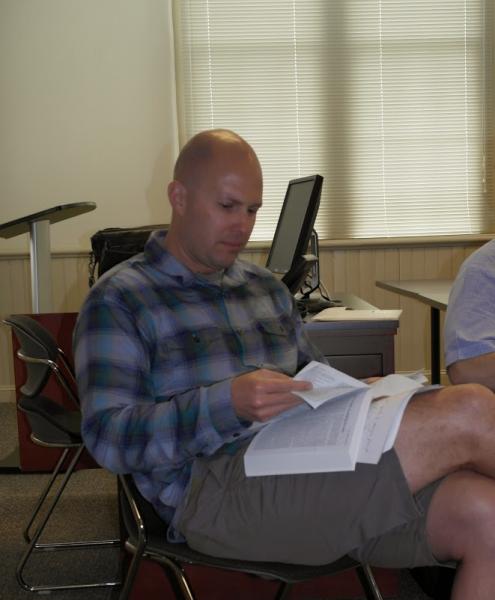 Is the program ecumenical? Yes, very much so. While rooted in the Catholic tradition of theology and of church, spirituality is also the area of theology in which the common ground of Christian faith is most clearly discovered.
Is the CSD available in Mobile, Atlanta and Charleston? Yes, cohorts form regularly in Mobile, Atlanta and Charleston with all the courses required for the program available at all sites.
Can this program be done through distance learning? Some of the courses (from the Summer Institute of Christian Spirituality) will include an option for a fully online format, but the foundational courses require 5 class meetings each semester for two academic years (Fall/Spring). The classes may be taken either at our home campus in Mobile, at the Ignatius House campus in Atlanta or at Our Lady of the Hills Catholic Church in Charleston. This once-a-month format is meant to facilitate participation from longer distances, without sacrificing the personal interaction which is an essential dimension of formation in spiritual direction. Most of the monthly meetings are scheduled on Saturday mornings, with an all-day meeting once a semester.
How long will it take to complete the certificate? A minimum of two academic years, including two summers.
Is financial assistance available? The major form of assistance is the significantly reduced tuition offered for all students in the theology programs, comparable to 50% or more reduction of the standard tuition for these programs nationwide.
In some cases, the diocese, parish, school or employer will offer further assistance. For those qualified for the Portier Grant (Catholics with financial need, active in ministry in the Archdiocese of Mobile), there are a limited number of tuition grants of up to 25%, for a matching amount of assistance from the parish or school or other archdiocesan institution.
CSD Admission Requirements
Order official transcript(s) from all previous academic institutions and have them sent to our office (unless you have already completed a program at Spring Hill College). (Note: transcripts must show 30 credit hours in theology (biblical, moral and spiritual) or documentation for approved equivalents must also be submitted.)

A list of all individually directed retreats previously attended (5 or 8 day) and ongoing spiritual direction

Two confidential letters of recommendation, sent directly from applicant's retreat director and spiritual director addressing applicant's aptitude for this program

A personal profile / spiritual autobiography, including: a brief account of the highlights or turning points of your own faith journey; and a personal statement outlining your reasons for being interested in this program.

Completion of the Specialized Application for the CSD program.

Schedule an interview with the program admissions committee, after all the above have been submitted.
If you are not already in a graduate theology program at Spring Hill you must apply for the Graduate Theology Programs in general before you apply for the Certificate of Spiritual Direction.
*For more information regarding the Atlanta program, contact Roxanne Wilhelm at 404-255-0503 ext 229 or rwilhelm@shc.edu.
**For more information regarding the Charleston program, contact Deacon Andre Guillet at 843-261-0536 or aguillet@charlestondiocese.org.
***Completion of 30 credit hours in Biblical, moral and spiritual theology (or approved equivalents), completion of at least one individually directed Ignatian retreat (5-8 days), experience of at least one year of ongoing spiritual direction.
Certificate of Spiritual Direction Application