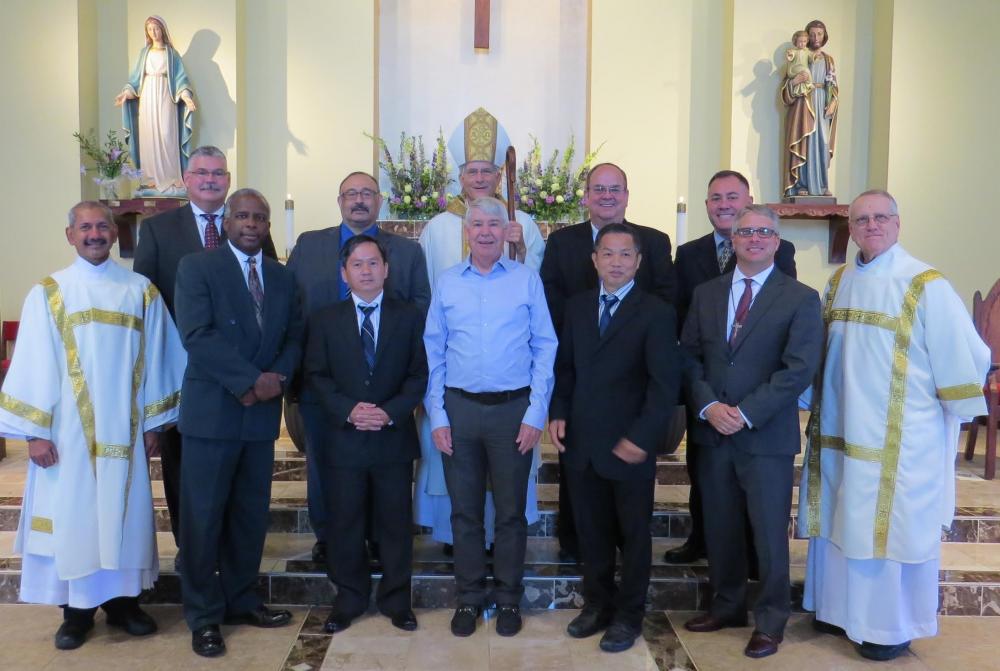 Diocese of Jackson First Deacon Cohort with Bishop Joseph Kopacz
Timothy Carmody, Ph.D., Director of Graduate Programs in Theology and Ministry, Spring Hill College
Dcn. John McGregor, D.Min., Director of the Permanent Diaconate Formation Program, Catholic Diocese of Jackson
In 2017 Spring Hill College entered into a collaboration with the Catholic Diocese of Jackson Mississippi to create a Permanent Diaconate Formation Program. Spring Hill College provides 9 credit hours of academic course work each year, for four years, while the Diocese provides non-credit pastoral, spiritual and personal formation The academic program consists of a 3-credit course and a 1-credit seminar each semester, as well as a 1-credit spirituality course (similar to courses in Spring Hill's Summer Institute of Christian Spirituality). The program was launched in the fall of 2018.
The academic courses in the program total 33 graduate credit hours and are equivalent to Spring Hill's Masters of Theological Studies program. The diaconate candidates, on completion of their Diaconate Formation program, receive the MTS degree from Spring Hill College. The first course is an introductory course (3 credit hours), which serves for all students as their prerequisite for entering the graduate degree program.
The schedule proposed by the Diocese of Jackson was to have a "semester" equal to 5 months, with one weekend meeting each month. The fall semester is September – January and the spring semester is February – June. The College offers courses over the first four months of these semesters: September – December and February – May. The months of January and June are given over to pastoral and spiritual formation, with Spring Hill offering one course in spirituality each year (see Diaconate Course Calendar).
Course materials and course interaction (Threaded Discussions) are delivered on Schoology, Spring Hill's online learning platform. Most of the course work on Schoology is asynchronous, but there are also options for live interaction.
Class meetings in Jackson take place on the Saturday following the first Friday of each month. The academic courses meet from 10:30 AM – 4:00 PM (including one hour for lunch). The course meetings usually have the Spring Hill faculty present in the classroom, but at times the faculty may be present by live stream with a graduate assistant overseeing the classroom activities. All courses are offered in blended format, combining the classroom meetings with online delivery of materials, discussions and assignments.
Spring Hill also works with the Director of the Permanent Diaconate Formation program to train graduate assistants who are available in the classroom and between class meetings as local tutors for the candidates.