Theology & Ministry Courses
As part of its mission and commitment to serve as an educational resource for the Catholic community as well as the wider Christian community of the southeast, Spring Hill College offers a blended program with a minimum of classroom experiences at two sites: Mobile, AL and Atlanta, GA.
Level 1 (L1) courses are taught online and require students to attend one (1) in-classroom meeting at either the Mobile or the Atlanta campus. Level 2 (L2) courses are taught fully online. Graduate Seminars are one (1) credit, weekend courses offered in both Mobile and Atlanta.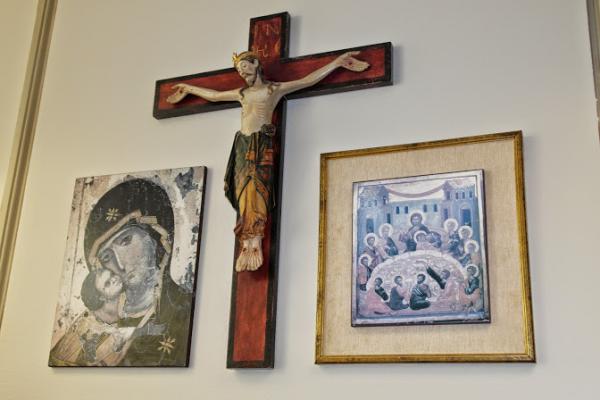 Winter 2017-18 - November 20 – February 4
THL 528 (421) Religious Education (L1 or L2) (P)
Dr. Lois Silvernail
(Class Meetings:  Dec 2 – Atlanta;  Dec 9 – Mobile)
James W. Fowler, Stages of Faith: The Psychology of Human Development and the Quest for Meaning. HarperCollins, 1995. ISBN: 978-0060628666
THL 533 (333) The Pauline Letters and Theology (L2) (B)
Dr. Timothy Carmody
Michael Gorman, Apostle of the Crucified Lord: A Theological Introduction to Paul and his Letters. Eerdmans, 2004. ISBN: 978-0802839343
Luke Timothy Johnson, Reading Romans: A Literary and Theological Commentary. Smyth and Helwys, 2008. ISBN: 978-1573122764
Bible (an academic translation such as NAB, RSV or NRSV)
Spring 2018 - February 12 – April 22
THL 508 (363) American Religious History (L1)  (H)               
Fr. Christopher Viscardi, S.J.
(Class Meetings:  Mar 3 – Atlanta;  Mar 10 – Mobile)
THL 560 (461) Early Christianity: The Church Fathers (L2)  (H) 
Dr. John Switzer

Fall 2018 - September 3 – November 11
THL 506 (351) Foundations of Christian Ethics (L1)  (M)  
Dr. Matthew Bagot
(Class Meetings:  Oct 13 – Mobile;  Oct 20 – Atlanta)
THL 520 Theological Research Methods
Dr. John Switzer
(Fully Online)
THL 521 (441) Eucharist (L2)  (P/H)  
Dr. Steve Wilson
Winter 2018-19 - November 19 – February 3
THL 504 (388) Pentateuch (L1) (B)
Dr. Timothy Carmody
(Class Meetings:  Dec 1 – Mobile;  Dec 8 – Atlanta)
THL 509 (385) Comparative Religions (L1) (H)
Dr. George Gilmore
(Class Meetings:  Dec 8 – Mobile;  Dec 1 – Atlanta)
Spring 2019 - February 11 – April 21
THL 507 (352) Christian Social Ethics: War and Peace (L1)  (M) 
Dr. Matthew Bagot
(Class Meetings:  Mar 16 – Mobile;  Mar 23 – Atlanta)
THL 532 (332) The Johannine Gospel and Epistles (L2)  (B)               
Dr. Timothy Carmody
KEY
THL=Theology Course; SPT=Spirituality Course
B=Biblical Theology; H=Historical Theology; S=Systematic Theology; M=Moral Theology; P=Pastoral Theology
Course numbers in parentheses are undergraduate numbers for the CTS program.

The Fall and Summer terms have 10 weeks; the Winter and Spring terms contain 11 weeks to give some leeway for Christmas Holidays and Spring Break.  Scheduling for assignments in the courses will be determined by the professor.

Because the college as a whole is on the semester system, so-called "winter" courses are actually logged with the registrar as courses in the spring semester.