Theology & Ministry Courses
As part of its mission and commitment to serve as an educational resource for the Catholic community as well as the wider Christian community of the southeast, Spring Hill College offers a blended program with a minimum of classroom experiences at two sites: Mobile, AL and Atlanta, GA.
Level 1 (L1) courses are taught online and require students to attend one (1) in-classroom meeting at either the Mobile or the Atlanta campus. Level 2 (L2) courses are taught fully online. Graduate Seminars are one (1) credit, weekend courses offered in both Mobile and Atlanta.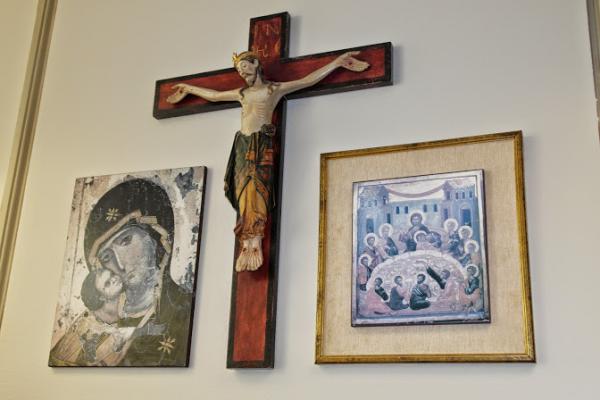 Summer 2019: May 13-August 11
THL503 (386) The Synoptic Gospels (B)
Dr. Timothy Carmody
(Fully Online)
THL574 Inter-Religious Dialogue (M)
Dr. Matthew Bagot
(See the Summer Institute of Christian Spirituality page for more information.)

Fall 2019: August 26-November 25
THL502 (343) Theology of Sacrament (L1)  (S/H)
Fr. Christopher Viscardi, S.J.
(Class Meetings:  Oct 26 – Mobile;  Nov 2 – Atlanta)
Required Text: Irwin, Kevin W. The Sacraments: Historical Foundations and Liturgical Theology. Paulist Press: 2016. ISBN: 9780809149551
THL520 Theological Research Methods (Required Core Course)
Dr. Timothy Carmody
(Fully Online)
THL533 (333) The Pauline Letters and Theology (L2)  (B)
Sr. Nelida Naveros
Required Text: Gorman, Michael. Apostle of the Crucified Lord. Grand Rapids, MI: Eerdmans, 2004. ISBN: 978-0-8028-3934-3
Spring 2020: January 13-April 20
THL510 Introduction to Practical Theology (L1)  (P)
Dr. Demetrius Semien
THL521 (441) Eucharist (L2)  (P/S/H)
Dr. Stephen Wilson
Summer 2020
THL554 (350) Catholic Social Thought (L2)  (M)
Dr. Matthew Bagot
THL TBA
(3 credit course offered in the Summer Institute of Christian Spirituality.)

KEY
THL=Theology Course; SPT=Spirituality Course
B=Biblical Theology; H=Historical Theology; S=Systematic Theology; M=Moral Theology; P=Pastoral Theology
Course numbers in parentheses are undergraduate numbers for the CTS program.