The Blended Format Principles
After more than 30 years of Adult Theological Formation, Spring Hill College has reconfigured its Graduate Theology program in a blended format based on these principles:
1. Provide academically and pedagogically sound instruction
All online courses are created and taught by doctorally qualified faculty of Spring Hill College.  After years of experience in online education, experts in online pedagogy have determined that online learning works best with what is called a "flipped classroom."  In a "flipped classroom" the intellectual content of the course is effectively disseminated online before meeting for face-to-face discussions. "Homework," previously assigned to students to do outside of class, is now the primary activity for the classroom.  Engaged processing of the intellectual content is now done in a learning community.
Rationale: Instead of passively listening to lectures at gatherings, socially constructed knowledge maximizes the learning process.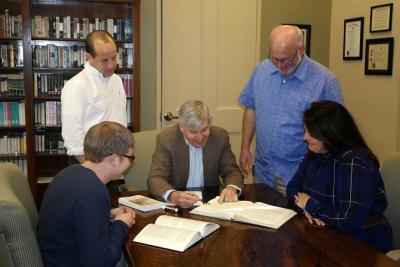 2. Build a strong community of inquiry, nurtured by personal interactions of students and faculty 
In order to build a sophisticated learning community, the program, while primarily online, includes strategically timed, intensive, on-site, classroom experiences, with one (1) in classroom experience for each Level 1 course (at least three in all) and three (3) Graduate Seminar, weekend, on-site experiences.  All of the courses will use the latest online technology to enhance the human "face-to-face" experience of learning
3. Reach all students seeking master's degrees in theology in the Southeast region
In order to reach as many students in the southeast as possible, the program offers the classroom experiences for Level 1 courses and the Graduate Seminars at both the Spring Hill College campus in Mobile and the campus in Atlanta (Ignatius Retreat House and/or Marist High School).  These two campus locations in Mobile and Atlanta are within reasonable distances for most of the southeast.
5 Elements of Scaffolded Structure
With limited face to face interaction in these programs, a scaffolded sequence for advancing the student successfully through the program will be embedded within the tiered structure of the program. The blended programs are built on the tiered levels of five elements: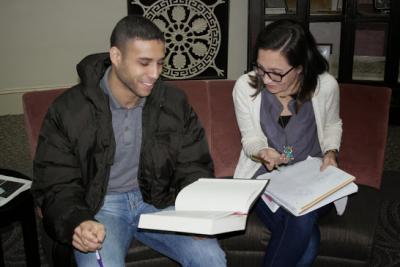 1. After being admitted students take at least three Level 1 courses, which are broader in scope and require less prerequisite theological knowledge and less advanced research. The assignments for these courses teach targeted methodologies for research and analysis.  

During the term, each Level 1 course will provide two course specific, in-classroom experiences, one in Mobile and one in Atlanta.  All students must attend one of these sessions.  In keeping with the "flipped classroom"  pedagogy, these in-classroom experiences will not consist of lectures that impart information, but will provide intensive seminar style discussion and practical, team-based engagement with course material and methodologies for research and analysis.

2. After three Level 1 courses students will take THL 520 Theological Methods.  This course builds on the targeted methodologies from Level 1 courses to introduce the student to the high level research, methodology, analysis and synthesis required of masters level research and writing.

3. After completing THL 520 students will take Level 2 courses which require more advanced research and analysis and are entirely online.


4. During the time period that students are taking Level 2 courses, they are required to attend three Graduate Seminars face-to-face.  
The Graduate Seminar is a one-credit, weekend course focused on a particular topic and led by an individual faculty member.  Seminars will be offered in both Mobile and Atlanta at least once a year and possibly twice.  The final Graduate Seminar will serve as the oral component of the Comprehensive Experience.
5. Selected spirituality courses (SPT) taught in the Summer Institute of Christian Spirituality will be cross-listed as THL 57_, requiring 2 extra credits (beyond the 1-credit SPT course) and designated as Guided Reading. 
There is a maximum of 2 Guided Reading courses (6-credit hours) allowed for the MTS program. For the MPS program 1-credit stand-alone SPT courses or 3-credit Guided Reading courses may count for up to 9 hours of course work.  For the MA program up to 9 hours of Guided Reading may count, depending on the approval of the student's thesis director.
Graduate Theology Brochure