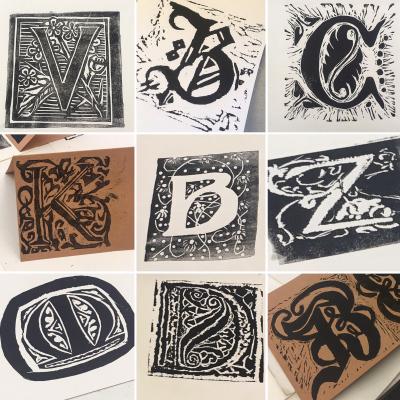 LOWER-DIVISION COURSES
ART 101. Two-Dimensional Design (3) A studio course introducing the basic elements of design through projects in a variety of media.
ART 102. Introduction to Drawing (3) Fundamental approaches to drawing techniques in various media with an emphasis on life drawing and perspective.
ART 103. Ceramics I (3) An introduction to the use of basic hand-building techniques in forming functional and sculptural objects in clay.
CMM 145. Introduction to Media Studies (3) An analytical survey of the major types of contemporary media focusing on their role in society and culture. Print, electronic and digital industries are examined both from a professional and a consumer perspective. Students develop an understanding of basic concepts of the world of media and ponder what it means to live in a "media age." Lab Fees: Curriculum and Equipment.
ART 202. Figure Drawing (3) A continuation of Introduction to Drawing with an emphasis on various drawing techniques as they apply to portraiture and figure drawing. Prerequisite: ART 102.
ART 206. Painting I (3) An introduction to painting with problems based on color composition and the development of visual ideas. Prerequisites: ART 101 and 102, or permission of the instructor.
ART 208. Introduction to Digital Design (3) An introduction to desktop publishing using the Macintosh operating system. Students will be introduced to design industry standard programs and create various digital projects throughout the semester.  The goal of this course is to gain an understanding of basic graphic design concepts, elements and terminology, use of hardware/software, image manipulation, file management, printing strategies and professional presentation of images and information.  Students will acquire foundational digital skills, an introductory understanding of design principles and knowledge of the design process.
ART 209. Three-Dimensional Design (3) An introduction to visual expression in three dimensions, developing the capacity to see and manipulate form, texture, light and color in space.
ART 220. Graphic Design I (3) An introduction to visual communications, including the relationship between word and image in a two-dimensional space. Emphasis is placed on creativity and idea development methods, design and visual perception and the entire process from visualization to production. Major topics include: the elements and principles of design as applied to graphic design, Gestalt psychology, typography and basic graphic design theory. Assignments give students a chance to use the tools of the graphic designer in applying theory to practical problems. Prerequisite: ART 101, 102, and 208; or permission of the instructor.
CMM 220. Principles of Strategic Communication (3) (W) Principles, history, theory and practice of public relations and advertising, including elements of integrated marketing communication and persuasion. Lab Fee: Curriculum
ART 230. Color Theory (3) Studio course in the nature and use of color. Students develop an understanding of color as a vital element in design, study and analysis of traditional and electronic sources. Prerequisite: ART 101.
ART 240. Typography I (3) A studio course in the use of typography and its relationship to graphic design. Students gain insight into typographic design as they complete studies revealing underlying concepts of typographic form and meaning. Typographic skill and expertise is acquired through a combination of knowledge, practice and experience. This course will challenge students to explore and experiment with type to learn their forms, history, vocabulary and potential for communication.  Through a series of projects and exercises supported by readings and lectures, students will acquire a solid foundation for practicing purposeful and expressive typography and gain an understanding of the fundamentals of typographic design.  Prerequisite: ART208
ART 253. Introduction to Digital Video Production (3) Same course as CMM 253 (Communication Arts students take this course as CMM 253, not ART 253.)
ART 254. Introduction to Photography (3) Same course as CMM 254. (Communication Arts students take this course as CMM 254, not ART 254.)
CMM 260. Visual Communication (3) Designed to develop analytical and critical skills with regard to the use of visual imagery in media. Subject matter covers all visual communication practices with an emphasis on the major art and information forms, such as photography, illustration, film and video, television and the Web. Lab Fee: Curriculum
ART 299. Special Topics (1-3) Course work offered by visiting artists and other special topics not in regular course offerings. These may be used by art majors and minors to fulfill art credit at the discretion of the department.
UPPER-DIVISION COURSES
ART 301. Advanced Drawing (3) An advance studio course using different approaches to various drawing media with an emphasis on figure drawing. Taught in conjunction with Drawing II. Prerequisite: ART 202.
ART 302. Illustration (3) An introduction to the art and discipline of illustration, creating visual images that communicate ideas and information. Prerequisite: ART 102 and 208, or permission of the instructor.
ART 303. Ceramics II (3) An exploration of design concepts in clay using both hand building and wheel techniques. Prerequisite: ART 103.
ART 306. Painting II (3) A course in color theory and painting techniques. Problems include art historical research and visual problem solving. Prerequisite: ART 206.
ART 307. Printmaking I (3) Exploration of printmaking techniques with emphasis on intaglio and relief processes. Prerequisite: ART 102.
ART 310. Mixed Media (3) This course will emphasize the use of mixed media in an increasing range of complexity. Projects will be directed toward personal development with discussion and analysis. Students will develop a series of mixed-media objects that demonstrate visual research and technical proficiency. Prerequisites: ART 101 and 102.
ART 320. Graphic Design II (3) The use of more advanced tools, visualization media and techniques will be explored with an emphasis on portfolio development.  Prerequisite: ART 208 and 220.
CMM 324. Media Law and Professional Ethics (3) (W) A course in the laws, regulations and ethics codes governing media and work in the media, which encourages a professional standard of conduct. Prerequisites: Completion of departmental lower-division requirements for communication arts majors and minors; permission of instructor for others. Lab Fee: Curriculum
CMM 327. History of Film and TV (3) (W) A historical overview of the two primary visual and aural media of the past century. This course will examine the major historical and aesthetic trends of both, pointing out their differences, similarities and tenuous interactions throughout the 20th century and into the 21st. Both national and international genres and movements will be covered, with a primary emphasis on American film history and its relationship to our changing culture. Cross-listed as HIS 327. Lab Fee: Curriculum.
ART/CMM 338. Advanced Photography (3) A course that emphasizes the mastering of photographic skills from picture taking to exhibition (in print and online). Development of a personal artistic vision in image making while learning to perfect the craft of modern photography using digital tools. Advanced Adobe Photoshop skills stressed. BYOD (DSLR camera not provided.) Prerequisite: CMM/ART 254 or permission of instructor. Lab Fees: Curriculum, Equipment and Supply
ART 341. Typography II (3) A studio course in the use of advanced and conceptual typography. Students gain insight into typographic layout design, applied typography, publication design and experimental typography. This course will build on skills acquired in ART240 Typography I with further emphasis on technique, concept development and creative problem solving. Environmental design best practices will be explored and three-dimensional typographic form will be introduced. Upon  completion of this course students will demonstrate typographic proficiency across a variety of design assignments. Typographic skill is refined, design and typographic vocabulary is demonstrated, an ability to analyze works of design perceptively and evaluate them critically is acquired. Prerequisite: ART240 and ART320.
CMM 366. Strategic Planning for PR and Advertising (3) (W) A comprehensive planning course covering the mechanics of strategic planning through the development of multiple types of plans (crisis, promotional, creative, etc.) and materials to achieve advertising and public relations goals. Students may produce plans for real-world clients. Prerequisite: CMM 220 or 221 or permission of instructor. Cross-listed as MKT 366. Lab Fees: Curriculum, Equipment and Supply.
ART 371. Website Development (3) A course designed to introduce the student to website development incorporating data technology. Technologies used to create dynamic data-driven web pages will include Dreamweaver, PHP, MySQL, XHTML and CSS. In addition, the student will learn to interact with and manage a website on a remote server. Substantial lab work will be expected. Cross-listed as CIS 371.
ART 407. Printmaking II (3) Skills in intaglio and relief printing will be developed and non-traditional methods of printmaking will be explored. Prerequisite: ART 307.
ART 420. Graphic Design III (3) This course focuses on the refinement of graphic design skills, collaborative processes, portfolio development, presentation skills and professional practices. Prerequisite: ART 230 and 320.
ART 430. Branding (3) This upper division studio course offers students a solid foundation to survey the unique challenges of adapting typography, illustration and photography to practice clear communication of the message and brand creation in multiple forms. Students will engage in exploration of creative solutions in both two and three-dimensional form for community organizations. History and social context of branding and advertising will be covered. Upon successful completion of this course students will be able to demonstrate a knowledge of branding, understand the role and its relationship to design, exhibit critical thinking skills and acquire an understanding of design thinking and marketing strategies. Prerequisite: ART320.
CMM 430. Advanced Editing and Motion Graphics (3) A hands-on course concentrating on manipulation of digital video materials, particularly of stills, typography and other graphic elements in a variety of video formats. The course includes an introduction to computer animation software principles and applications. Departmental equipment provided for use by students enrolled in this course. Prerequisites: CMM 253 or permission of instructor. Lab Fees: Curriculum, Equipment and Supply
ART 490. Visual Arts Internship (1-3) An internship experience under the supervision of Spring Hill College faculty and an experienced art-business, studio art, graphic design or similar professional. Provides students meaningful field experience, building their portfolios and benefiting the professionals to whom they are assigned. Prerequisite: Permission of the instructor. Cross-listed as CMM 490. Variable credit; may be repeated for up to six credit hours. The combined maximum earned hours for CMM 490 and ART 490 is six hours.
ART 491. Graphic Design Senior Seminar (3) (W) (O) Comprehensive experience. Graphic design majors will complete work, plan and execute a senior exhibit or presentation and portfolio.
ART 499. Special Topics (1-3) Work in a special area of studio or graphic art.
ART HISTORY: UPPER-DIVISION COURSES
ARH 312. Modern Art (3) (W) An investigation of major movements in visual art of the twentieth century. (Bibliographic instruction course.)
ARH 313. Contemporary Art (3) A survey of major trends in contemporary art and contemporary visual culture in today's globalized world.
ARH 315. History of Graphic Design (3) (W) A survey of graphic design, events and major achievements from prehistory to the present. The course emphasizes the evolution of graphic communication and places contemporary design in historical context. Upon successful completion of this course students will be knowledgeable of the fundamental design movements, influences, technological advancements and evolution of graphic design. Students become familiar with individuals that have shaped design culture and their impact on design theory and modern practice. Through lectures, discussions, presentations, research and both written and studio assignments students acquire a solid foundation of graphic design history.
ARH 499. Special Topics (1-3) Work in a special area of art history or research.