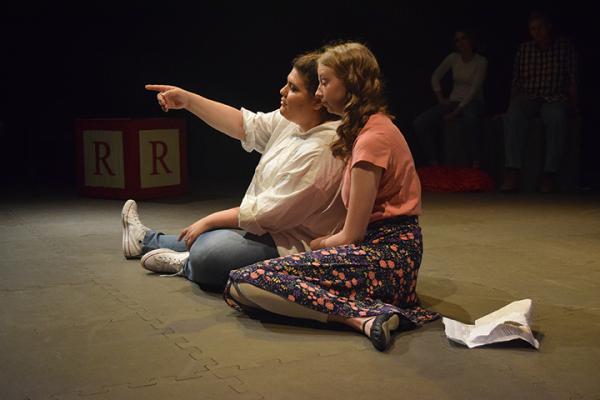 LOWER-DIVISION COURSES
ART 209. Three-Dimensional Design (3) An introduction to visual expression in three dimensions, developing the capacity to see and manipulate form, texture, light and color in space
ENG 242. Introduction to Drama and Theatre (3) (W) An introduction to the genre and representative plays covering major movements from classical to Renaissance to 18th century to realism to postmodernism. Representative authors might include Sophocles, Aeschylus, Shakespeare, Jonson, Wycherley, Sheridan, Ibsen, Shaw, Miller, Pinter, Stoppard, Mamet, August Wilson, Wendy Wasserstein, Marsha Norman, Friel, Synge and Chekhov.
THR 245-246. Theater Production I-II (1-3) credit depends on amount of work contracted with instructor: 30 hours study/work = 1 credit hour) A student may concentration one or more areas of theater production (lighting, costuming, scenery, properties, make-up, music/sound, acting, directing) in formal academic study and/ or practical work on a production. Assignments will be arranged with the instructor.
THR 250. Acting I (3) (O) A first course in acting, designed as a workshop, to include improvisation, role-playing, sensitizing of physical and mental tools. Analysis of skills and problems of individual students.
THR 251. Introduction to Performance Studies (3) Performance Studies has been described as a marriage of theater and anthropology, yet it is both more and less than those two disciplines. Students will read and analyze foundational texts as well as create practical projects based on methodologies studied, including participant-observation ethnography.
ART/CMM 253. Introduction to Digital Video Production (3) An introduction to the process of producing short digital videos in narrative, documentary, journalistic or promotional formats. Students will write, produce, edit and distribute appropriately in a variety of projects, while learning the equipment, techniques, history and new developments in moving imagery. Emphasis will be on learning the various processes in relation to the art and craft of film and video storytelling — in fiction and/or nonfiction formats. Departmental equipment provided for use by students enrolled in this course.  Lab Fees: Curriculum, Equipment and Supply.
 UPPER-DIVISION COURSES
CMM 327. History of Film and TV (3) (W) A historical overview of the two primary visual and aural media of the past century. This course will examine the major historical and aesthetic trends of both, pointing out their differences, similarities and tenuous interactions throughout the 20th century and into the 21st. Both national and international genres and movements will be covered, with a primary emphasis on American film history and its relationship to our changing culture. Cross-listed as HIS 327. Lab Fee: Curriculum.
CMM/WRI 331. Scriptwriting for Film and TV (3) (W) A course that covers both dramatic/ comedic fictional formats and informational/documentary/persuasive formats. A creative screenwriting course for short (under one-half-hour) productions for Web and TV distribution. Prerequisite: ENG 123. Lab Fee: Curriculum.
THR 350. Acting II (3) Continuation of Acting I. Emphasis on scene and monologue study, script analysis. Thirty-hour production requirement. Prerequisites: Sophomore standing; Acting I or equivalent.
CMM 429. Advanced Digital Video Production (3) A hands-on course emphasizing more advanced and sophisticated elements of production and post-production of short narrative fiction, documentary, or journalistic stories. Emphasis on learning the professional processes and procedures that are traditional and relevant to the digital revolution and online distribution. Departmental equipment provided for use by students enrolled in this course. Prerequisite: CMM 253 or permission of instructor. Lab Fees: Curriculum, Equipment and Supply.
ENG 445. American Drama (3) (W) A study of the development of American drama from its beginnings to the present. Dramatists might include Eugene O'Neill, Tennessee Williams, Suzan-Lori Parks, August Wilson, Arthur Miller and Wendy Wasserstein.
THR 450. Acting for the Camera (3) This course will help students transition from stage acting to acting for the camera and will cover basic camera acting techniques, procedures, script analysis and auditioning. Students will be required to participate in exercises and/or film shoots outside of class time. Prerequisite: THR 350.
THR/ENG 465. Modern Drama (3) (W) A study of dramatic works from Ibsen to the contemporary experiments of playwrights like Peter Shaffer and Sam Shepard. (Same course as ENG 465.) Prerequisites: English core requirements.
THR 480. Global Performance and Design (3) (W) This course offers an introduction to basic texts of performance theory and directs the methodological questions derived from those texts to the study of performance practices and spaces in context, exploring Paleolithic ancient, and medieval performance and design histories in global, cross-cultural perspective. Prerequisite: THR 251. 
THR/ENG 485. Shakespeare (3) (W) A detailed study of the best known works of Shakespeare-histories, comedies and tragedies. (Same course as ENG 485.) Prerequisites: English core requirements.
THR 490. Theory and Practice of Play Directing (3) An introduction to the major theories and practical techniques of play direction. Each student will be required to direct the production of a one-act play in the last half of the course. Prerequisite: THR 245.
THR /WRI 492. Playwriting (3) (W) Critical analysis of dramatic structure for the playwright.  Scenarios, character studies and writing of a one-act play. (Same course as WRI 492.) Prerequisites: English core requirements.
THR 493. Adaption: Text/Theatricality (3) A workshop focused on the preparation of literary texts for performance. Study of a variety of texts with attention to forms of speech, the gap between writing and speech, narrative style and function. Prerequisites: English core requirements.
THR 494. Performance Studio (3) Critical analysis of structure of contemporary solo performance. A workshop in writing and performance of original performance pieces. Prerequisites: English core requirements.
THR 495. Special Studies (3) The course will concentrate on one of the following: acting, set design, costume design or lighting. Prerequisites: English core requirements.
THR 497. Theater Internship (3-6) A supervised, professional work experience. Prerequisites: English core requirements and the permission of the program director.
THR 498. Senior Synthesis Project (3) (W) The study of a chosen area of theater (e.g., history/criticism, performance theory, design theory), through analysis and independent critical research, which results in written documentation and public presentation(s) in the form of a lecture/recital appropriate to the area of focus. Required of all seniors in the drama program and intended principally for them. Prerequisite: Senior standing or permission of instructor.