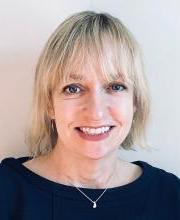 Wanda Sullivan, M.F.A.
Professor
Eichold Gallery Director
Wanda Sullivan looks for ways to blend technology with traditional painting methods. For her current body of work, Synthetic Biospheres, she photographs natural elements, predominantly flowers, through a kaleidoscope app on her iPad. By altering the image of natural materials through the lens of technology, she mimics what is essentially taking place in our world. Technology is changing our climate and our landscapes. She received her MFA in painting from the University of Mississippi in 1990. Sullivan's exhibits her work nationally in competitions, galleries and museums such The Hollins University Eleanor D. Wilson Museum in Roanoke, VA, the Wichita Center for the Arts in Wichita, KS, the Santa Clara University Gallery in Santa Clara, CA and the Xavier University Gallery in Cincinnati, OH, to name a few. In 2016, she received the Dawson Research Award for Excellence in Scholarship at Spring Hill College and in 2010 the Mobile Arts Council named Sullivan Artist of the Year in the Annual Greater Mobile Arts Awards.