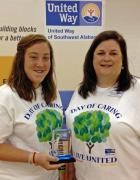 Spring Hill College graphic design students designed the Tee shirt for the 2014 United Way of Southwest Alabama's Day of Caring.
The students presented their designs to three UWSWA representatives who came to our class.
Tina Blackmon of the United Way gave Raleigh Downs, the student whose design was chosen, an award at the Day of Caring breakfast.
Raleigh described her inspiration for her fingerprint tree:
"I came up with the idea of everyone putting their mark on the community and the world. That was the inspiration for the fingerprints. Even though the fingerprints are individually unique, together they can Live United in the world."
Other student's designs are being considered for future use.