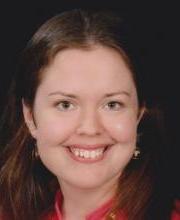 Dr. Stephanie Callan
Associate Professor
Division Chair of Languages and Literature
Department Chair of English
Gregory Lucey Adm Center, 3rd Floor, Office 382
Doctor of Philosophy (PhD), English, Univ Oregon (2007)
Master Degree, English, Univ Oregon (2002)
Bachelor of Arts, Honors Program, English, Gonzaga University (1999)
-
Dr. Callan specializes in modernism (early 20th century literature). Her teaching interests include British and Irish literature, transatlantic modernism, and drama. Her research focuses on modernist writers' interests in anthropology and folklore, including Zora Neale Hurston, Lady Gregory, J. M. Synge, and Sterling A. Brown.
Selected Courses
ENG 242: Introduction to Drama and Theater
ENG 321: Virginia Woolf and E. M. Forster
ENG 460: Irish Literature
ENG 495: The Roaring Twenties
ENG 496: The Harlem Renaissance
Selected Publications
"Exploring the Confluence of Primitive Ritual and Modern Longing in Between the Acts."  Selected Papers from the Fifteenth International Woolf Conference.  Helen Southworth and Elisa Kay Sparks, eds. 
Selected Presentations
"Forming Chaos: Scientific Process and Creativity in Connie Willis's Bellwether."  Society for Literature, Science, and the Arts, Atlanta, November 2016.
"Performing Race, Performing Science in Black No More."  Multi-Ethnic Literatures of the United States (MELUS), The College of Charleston, March 2016. 
"The Perils and Promise of First Contact in Mary Doria Russell's The Sparrow."  Multi-Ethnic Literatures of the United States (MELUS).  University of Georgia, April 2015.
"Looking for Irish Identity in Artifacts: The Broighter Hoard and the Irish Revival."  South Atlantic Modern Language Association, Atlanta, November 2013.
"You Say That To All The Girls: Anxieties about Hiberno-English and Authenticity in The Playboy of the Western World."  Modernist Studies Association 12, University of Victoria, British Columbia, November 2010.