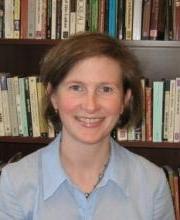 Dr. Leigh Litwiller Berte
Gregory Lucey Adm Center, 3rd Floor, Office 380
Doctor of Philosophy (PhD), English, Univ Washington (2004)
Master Degree, English, Univ Washington (1999)
Bachelor of Arts, English, Birmingham Southern College (1995)
Dr. Litwiller specializes in late 19th and early 20th century American literature and enjoys teaching a variety of courses in that area, including surveys, ethnic American literature courses, and special topics classes.  She also coordinates the team taught,  interdisciplinary, global learning courses that SHC offers each spring.  Her research focuses on the intersection between geography, literature, and culture. 
Selected Courses
ENGLISH 321        Major Authors: Fitzgerald and Hemingway
ENGLISH 320        Southern Literature
ENGLISH 319        American Literature from 1865 to the Present
ENGLISH 245        Introduction to African American Literature
ENGLISH 248        Introduction to Native American Literature
ENGLISH  121 and 123 Introduction to Composition
Selected Publications
"Geography by Destination: Rail Travel, Regional Fiction, and the Cultural Production of Geographical Essentialism." American Literary Geographies: Spatial Practice and Cultural Production, 1500-1900. Martin Bruckner and Hsuan Hsu, Eds. University of Delaware Press, 2007.
"Mapping The Octopus: Frank Norris's Naturalist Geography." American Literary Realism. Spring 2005 (Vol. 37, No. 3).
"Innovative Team Teaching for Systems Thinking and Global Citizenship," Diversity and Democracy, Spring 2014, co-authored with Margaret Davis
Selected Presentations
"Hawthorne's Utopian Pilgrims," South Atlantic Modern Language AssociationConference, Jacksonville, Florida, November 2016
"Contexts for Signature Work", Featured Presentation with Margaret Davis and Tiffany Thomas (student) for the Plenary Session, Liberal Education & America's Promise (LEAP) Challenge Forum at AACU's Diversity, Learning, and Student Success conference in San Diego, CA, March 27, 2015
"The World on a Dime: A Model for Interdisciplinary Learning on a Tight Budget", with Margaret Davis, American Association of Colleges and Universities Conference on Global Learning in College, Providence, Rhode Island, October 3-5, 2013
"From Benjy to Forrest Gump: Filming the Southern 'Tale Told by an Idiot'" South Atlantic Modern Language Association Annual Conference; Atlanta, GA, November 2011
"Moral Machines: Hawthorne and Technological Allegory"  Northeastern Modern Language Association Annual Conference; Buffalo, NY, April 2008
"Taking the Stage: The Pullman Car and the Rewriting of Racial Performance in Jim Crow America" Modern Language Association Annual Conference; San Diego, California, December 2003