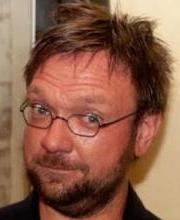 Dr. Andrew Tumminia
Gregory Lucey Adm Center, 3rd Floor, Office 379
Doctor of Philosophy (PhD), English, Fordham University (2008)
Master Degree, English, Fordham University (1999)
Bachelor of Arts, English, Loyola Univ Maryland (1997)
Dr. Tumminia studies, researches, and teaches topics related to early modern English literature. His classes range from specialty-specific studies of works by Shakespeare and other early modern English dramatists, to surveys of genres and special topics related to early English and British literature. He enjoys teaching core courses, as well, and approaches these classes with an eye toward highlighting the benefits of literary study to students regardless or major or curricular interests. He adopts a variety of theoretical approaches—most rooted in materialist assumptions—and challenges students' received notions of text by supplementing the study literary works with film, visual art, and pop culture. He writes about the connections linking religious, economic, and literary cultures, and his most recent work explores underutilized theories of agency in conjunction with the works of Shakespeare and his contemporaries.
Selected Courses
Shakespeare
Renaissance Drama
Sonnets: Poetry for Squares
Love, Actually: Science, Culture, and the Romantic Comedy
Early Modern Literature
Introduction to Drama and Theater
Composition I and II
Selected Publications        
"'Preaching to Stones': Shakespeare, Stones, and Structuration." The Shakespearean International Yearbook. Gen Eds. Tom Bishop and Alex Huang. Burlinton, VT: Ashgate, 2015. 185-204.
 ""More cullors than the Rainbowe caries": Catholics, Cosmetics, and the Aesthetic Economy of Protestant England." Renaissance Papers, 2010. Eds. Andrew Shifflett and Edward Gieskes. New York: Camden House, 2011. 135-160.
 "Romeo and Juliet." Advisory Editor. Shakespearean Criticism. Ed. Laurence J. Trudeau. Detroit: Gale, 2014. 105-218.
 Selected Presentations
"'That Stirring Vertue': Pyrrhus, Hamlet, and Painting." 44th Annual Meeting of the Shakespeare Association of America, 23-26 March 2016.
"Following the Proper Chain of Commands: Talus, Hermione, and the Imperative." Sixteenth Century Society & Conference, 16-19 October 2014.
"Sure and Firm-Set Earth": Shakespeare, Stone, and Structuration. 42nd Annual Meeting of the Shakespeare Association of America, 10-12 April 2014.
"'Wittes well sorted be most ciuill': A Bourdieusian Look at Shakespeare's Schooling." 41st Annual Meeting of the Shakespeare Association of America, 28-30 March 2013.
"Shakespeare's Stones." 40th Annual Meeting of the Shakespeare Association of America, 5-7 April 2012.