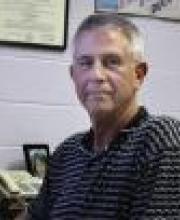 Tom Loehr, MFA
EDUCATION: BA; Major: Philosophy; Minor: English; St. Louis University, 1969Film & Photography Studies at: Northwestern U., Evanston, Illinois; Webster College (Now Webster U), St. Louis and St. Louis U; 1967-70MFA from New York University, Graduate Institute of Film and Television, 1973Recipient of The Leo Jaffe Film Production Award for 1973 by Leo Hurwitz, Haig Manoogian & Joel Silver.Numerous Photography, Film and Video & Digital workshops and institutes across the country since then. Projects:
Numerous short fiction and documentary or PR films produced over the last 30 years.
Most Recent Projects:
Video: I completed a short documentary in and around Bayou La Batre that complemented the work my students did in the spring semester of 2008. They produced short video profiles of families living in poverty within those communities. The problems and the answers to them are not simple and I hopefully elucidated the issues these and many other people in the Bayou area are facing and updated the conditions of those specific people. All the videos are placed on the Facing Poverty section of Spring Hill College's Website. Half hour documentary on Joseph N. Langan, former state senator, legislator, Mayor of Mobile during the 1950's and 60's. Title: With Reason and Courage; A Portrait of Joseph N. Langan in His Own Words, 2003 A series of Public Service Announcements for The Mobile Arts Council, profiling different local artists. I am vice-president of their Board and promoting the work of local artists to the community is a major part of our mission.  So far I have: two PSAs featuring Pieter Favier - one promoting his collection of Bernice Sims' work; another promoting his collection of Willie Elliott's. Both are
Alabama folk artists. Also one on Mobile Playwright, Elysabeth Wilder; one on a young concert violinist - Matthew Madonia. Also PSAs on "Jazzin' The Schools" on professional jazz musicians playing for and with local students and an informational video on an art project, "The living Marina" with youth from the Strickland Youth Center and the R.V. Taylor Center during the summer of 2009.
Photographic: I'm continuing to add to the digital, scroll prints that I began a few years ago.  In some instances I'm adding text to the image.  First public exhibition: a series of manipulated landscape scenes in digital color, using a digital camera, Photoshop and an inkjet printer. Each was printed on roll paper and displayed as a kind of scroll with bamboo attached to either end of the print. That work was featured in a one-person show in the Eichold Gallery in November of 2004.Most recent exhibit: The Faculty Art Show in the Eichold Gallery, March, 2010; more scroll prints and individual digital prints.
Writing: I recently completed a feature-length screenplay, now titled Tribute, which I hope to promote for production over the next few years.