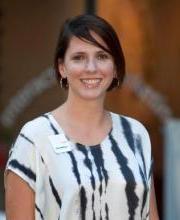 Stacy Wellborn
Visiting Faculty and Internship Director
Stacy Wellborn is a self-employed leadership, marketing and hospitality consultant, and a longtime adjunct instructor at SHC. She joined the college as a visiting professor in 2019. Growing up around the restaurant business, Stacy pursued a degree in Hospitality Management from the University of Alabama and continued her education at the University of North Carolina – Greensboro, earning a Master of Science in Counseling.
Upon graduation, Stacy honed her marketing skills working in the education, software and advertising industries. Always an entrepreneur, Stacy decided to pursue her dreams and created an independent full service restaurant located in downtown Austin, Texas. After relocating to Mobile, Alabama, Stacy built a successful marketing firm, wellbornIdeas, producing an extensive and elite list of clients including Whole Foods Market, The SCOOTER Store, Aloha Hospitality Restaurant Group, Wintzell's and the Mobile Bay Convention & Visitors Bureau. 
Stacy is an active member of the local community through her numerous philanthropic efforts. She is currently a board member of HandsOn South Alabama, United Cerebral Palsy of Mobile, Downtown Mobile Alliance and Mobile United, as well as an active member of the Junior League of Mobile. Stacy was selected for Mobile Bay's 40 Under 40 Class of 2010. She is a graduate of Leadership Mobile's 2011 class and is the Leadership Mobile Dean for 2014.