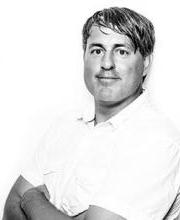 Ryan Noble, MFA
Ryan Noble joined the SHC Comm Arts faculty in Aug. 2013. He completed an M.F.A. in Dramatic Writing at Arizona State University (May, 2013) while also pursuing research interests in visual narrative theory and visual narrative recognition at the neurological level.  Utilizing his expertise as a filmmaker, he has plans to continue in the short term and extend in the longer term, film and visual communication scholarship, particularly in the arena of narratology and the neuroscience of visual narrative.  His recent position in the Hugh Downs School of Human Communication at Arizona State University served as an ideal marriage between his ability to conceptualize, write, and produce narrative-specific, small-budget video stimulus materials and his interests in visual narrative theory, the neurology of visual narrative recognition and the neuroscience of meaning-making in general.
For nearly 20 years, he has been a video and filmmaker completing projects in the form of documentary films, television commercials and narrative feature films.  In 2007, he completed his first narrative feature film, Border Wars, as writer, producer and director.  Border Wars, inspired by real events, takes a critical look at the phenomenon of border security and vigilantism on the Arizona/Mexico border.  It screened in competition at both the Orlando Hispanic Film Festival and the Harlem International Film Festival in 2007 and is currently being distributed worldwide by York Entertainment.
From 2002 to 2006, he was contracted to write, direct and produce a variety of television commercial campaigns for multiple clients.  The most prominent of these clients was Career Education Corporation (CEC) and, more specifically, their subsidiary, Collins College in Phoenix, Arizona.  He completed over 30 television commercials for Collins College alone, as well as several other spots re-purposed for the International Academy of Design and Technology, the CEC subsidiary network of schools.  He also produced and directed all of the media spots for the statewide "Munsil for Governor" campaign in Arizona in 2006.
His documentary filmography includes two half-hour productions, The Huichols: Art - History - Culture (1997) and A Day with Sheriff Joe (1998), the latter being shot entirely on 16mm film, as well as the feature production, Apache Baskets: A Season with Kareem (2000).  This film follows a high school basketball team on the White Mountain Apache Reservation in Arizona during their season with an NBA legend, Kareem Abdul-Jabbar, as a coach.
From 1998-2012, he was also a faculty member at Collins College (formerly Al Collins Graphic Design School, name changed in 2001), initially in the Visual Communications Program.  In 2003, he moved into the Film and Video Production Program after spearheading its creation and the development, writing and implementation of the curriculum for that Program.
In addition to teaching and scholarly work, he is also continuing to produce creatively with various screenplays in development, two feature screenplays in rewrite, two stage-play scripts in rewrite as well as the development of a television series.