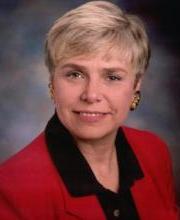 Patricia Yunker Hartman, APR
An accredited public relations practitioner, Patricia (Pat) Hartman has about 40 years of experience in all aspects of marketing including research, branding and product management, strategic planning, advertising and public relations in agencies, major corporations and start-up firms.
She has been an adjunct professor of communication arts at Spring Hill for more than 25 years.  She has taught courses in copy writing, persuasion, media planning and buying, research, strategic planning, campaigns, and strategy in the communication arts department, as well as marketing research and marketing management for Spring Hill's business division.
Hartman is president of Imagery Marketing & Research Consultants, Inc., a virtual marketing, advertising and public relations agency, which she helped found in 1988.  Imagery serves clients throughout the United States.  From 1988 to 1991, Hartman served assistant faculty advisor for the Spring Hill student advertising teams taking part in the American Advertising Federation's National Student Advertising Competition.  She was the faculty advisor for the student teams from 1993 to 1997.  During those years, Spring Hill College teams distinguished themselves by placing on the district level in the NSAC competitions.  In 1998, Hartman replaced the NSAC competition with a true student agency that prepares total integrated communications campaigns for not-for-profit clients each year.  She previously served as faculty advisor for the student chapters of AAF, PRCA and Lambda Pi Eta, the national communications honor society. Hartman has been an instructor of Internet marketing, e-commerce and career-related courses at Remington College in Mobile. 
She served as president of the Public Relations Council of Alabama, Inc. (PRCA), the Mobile chapter of PRCA, on the board of the Southern Public Relations Federation, as president of the Mobile Bay chapter of the American Advertising Federation (AAF), on district and national AAF committees and board, and is a charter member of the Society of Strategic Planners & Marketing Professionals.  Hartman has also served on public relations accreditation committees for national standardization of the public relations accreditation exam, and as the accreditation chair of the Mobile chapter of PRCA for several years.