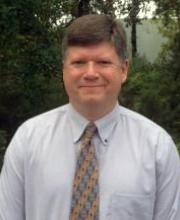 Dr. Stuart Babington
Associate Professor
Chair, Department of Communication, Visual, and Performing Arts
Stuart Babington (Ph.D., University of Southern Mississippi, 2007) came to Spring Hill College in January 2006 after having served as an adjunct instructor at Southeastern Louisiana University and a teaching assistant at the University of Southern Mississippi. His specialty is journalism.
Babington worked professionally as a sports reporter for the Mobile Register from 1988 to 2001, when he entered full-time graduate school. During his professional journalism career, he served as a copy editor, page designer, photographer and reporter in his primary coverage area of Baldwin County, Alabama. Today, he brings those experiences to the classroom, where he leads students in page design, public speaking, and introductory  and advanced writing classes. He also serves as the academic advisor for Spring Hill's student newspaper, The SpringHillian and the digital Hillian Newswire (http://newswire.shc.edu)
Outside of the classroom, Babington uses historical and legal research methods to investigate legislative actions concerning the health of the newspaper industry. His dissertation was published as a book in 2009. Two of his scholarly articles have been accepted by the journal, American Journalism, and another published in the Winter 2013 Journalism History.