Congratulations to the 2015 SHCURS Excellence in Presentation Award Recipients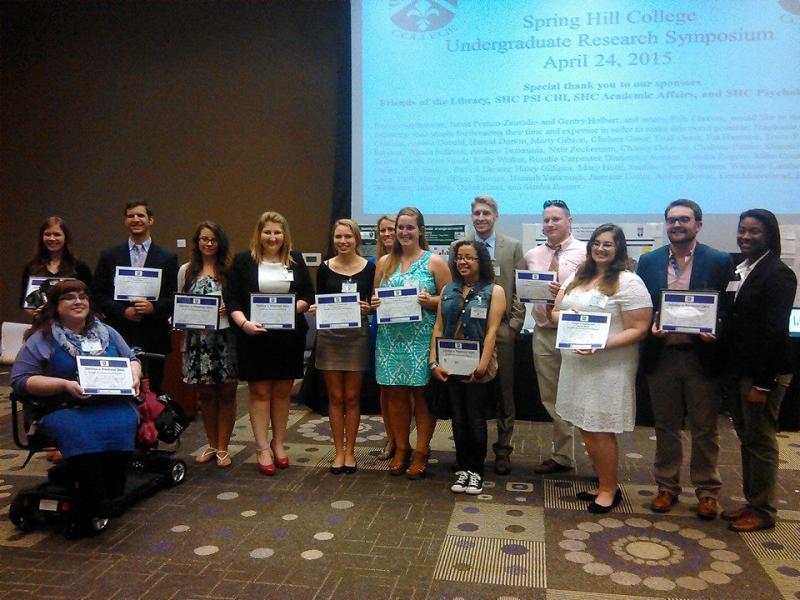 Original Research
Tiffany Thomas
Honorable Mention: Dylan Gardner and Harrison McNab
Off-Campus Research
Taylor Gravolet
Honorable Mention: Nicole Kocher
Class Projects
Jada Carter
Honorable Mention: Sawyer House
Service
Jane Carriere and Tiffany Thomas
Honorable Mention: Katherine Abalos
Media
Diego Juncadella and Briana Vaughn
Honorable Mention: CaraJean Robertson
Art
Dallas Elliot
Honorable Mention: Jolene Bruard
Congratulations to the 2014 Award Recipients 
Original Research
Amy Lyons and Kirsten Bordis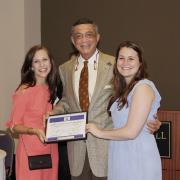 Honorable Mention: Lorenzo Croom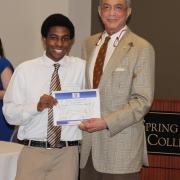 Off-Campus Research 
Jacob Files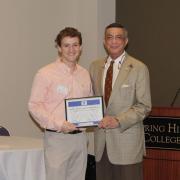 Honorable Mention: James Kizziah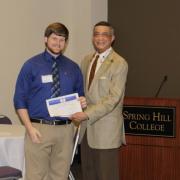 Class Project
Mary Catherine McKinley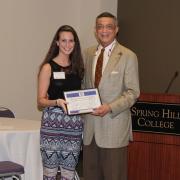 Honorable Mention: Tempey Hamilton
Service Project
Lesliey Garza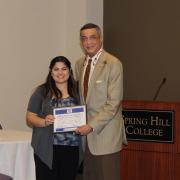 Honorable Mention: Michael Short and Erin Claxton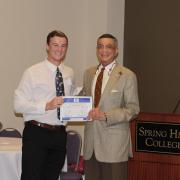 Art
Marie Booth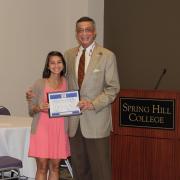 Honorable Mention: Jolene Bruard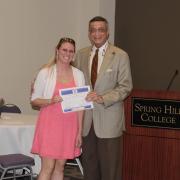 Media
Emily Hill and Kevin Smith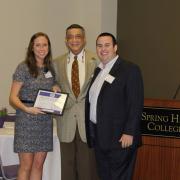 Honorable Mention: Alicia Candela
The Gary and Beverly Cooper Foundation is sponsoring two $125 travel awards for students who have traveled or plan to travel to a conference during the 2013-14 academic year. Preference will be given to students who present research at a national or regional conference as well as at the SHC Undergraduate Research Symposium.
2014 Cooper Travel Award Recipients
Kirsten Bordis
Amy Lyons
 To apply for the 2014 Cooper Foundation Travel Award, students sent their Curriculum Vita and research abstract to Dr. Franco-Zamudio at jfrancozamudio@shc.edu .
Congratulations to 2013 Award Recipients
Excellence in Presentation
Original Research
Konstantin Wertilecki
Honorable Mention: Jennifer Moore and Belen Gomez
Off-Campus Research
Jacob Files
Honorable Mention: Patience Wright
Class Projects
Ashley Ledet
Honorable Mention: Abbey Roam
Internship/Service Project
Gabbrielle Edgerson
Honorable Mention: Aislinn Shevlin
Media Project
Mary Reis, Katelyn Gardner, and Matt Bosarge
Honorable Mention: Dan Zekert
 Friends of the Library Award
Abby Roam
2012 Award Recipients
Congratulations to the Charles Boyle Undergraduate Research Award Recipient:
Megan Zeringue
Congratulations to the Excellence in Presentation Award Recipients:
Caitlin Murphy and Victoria Gonzalez
Congratulations to the Excellence in Presentation Award Honorable Mentions:
Catharina Palmer and Caroline Wilson
2011 Award Recipients
Congratulations to Excellence in Presentation award winners:
Caitlin Teahan, Chelsea Dore, and Lauren Brunson.
Congratulations to Honorable Mentions: Jay Hay and Jesus Iglesias