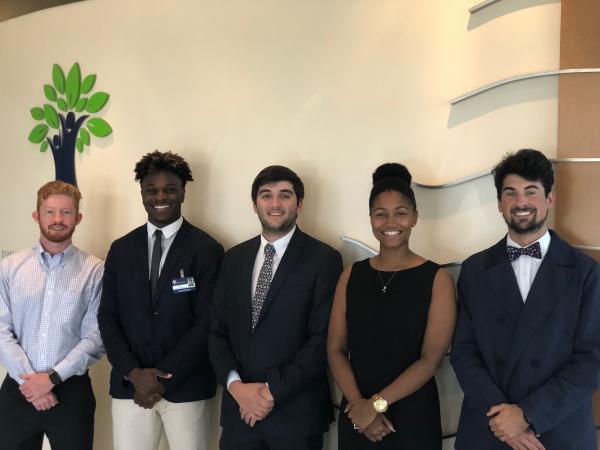 Eligibility:
Eligibility for a Business Internship– Completion of at least 60 earned hours, 24 SHC hours if a transfer student, or permission of Division Chair & cumulative GPA of 2.5 or above.

An active learning experience in a professional working environment related to a student's career ambition.
I. Internship Course Goals, Objectives & Outcomes:
Goals
1. Increase career readiness and experience personal growth.  
Objectives
1. Provide a link between the classroom and the workplace.
2. Supply students with meaningful work experience in the professions they are exploring.
3. Cultivate initiative, resourcefulness and time management skills.
4. Students gain a greater understanding of themselves: personally, socially, and professionally.  
5. To "Form leaders engaged in learning, faith, justice and service for life." (SHC Promise Statement)
Outcomes - Students will:
1. Develop a resume targeted towards internship of interest.
2. Gain career related and soft skills experience.
3. Complete the internship with a positive and approved reference from the Internship Site Supervisor.
4. Update their resume, references and LinkedIn account at the end of their experience.
5. Earn a Business Internship (BUS496) course grade.
Policies and Requirements
As an intern, you
Assume all risk involved with participating in this off or on campus education opportunity.

Are completely responsible for transportation and must carry auto insurance.

Should request reimbursement for any out-of-pocket expense incurred at the direction of the Site Supervisor (e.g. mileage, parking fees, etc.).
Will adhere to standard business practices, such as being punctual and to communicate schedule changes.

Should not assume that the Site Supervisor will automatically agree to be a positive reference-ask her or him.

Are required to pay tuition and fees to Spring Hill College during the semester (including the summer term) in which you earn the internship course credit (by the first day, according to the Bulletin's General Finance Policies).

Agree that your resume may be used as an example by the Internship Coordinator or Career Services Director in the future. Likewise, photos may be used for promotional purposes. Otherwise you have opted out via e-mail.